President Trump replaces acting Director of Immigration Enforcement Daniel Ragsdale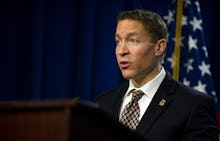 President Donald Trump has relieved another holdover from the Obama administration from his duties. Monday night, he replaced acting Director of Immigration and Customs Enforcement Daniel Ragsdale, NBC News reported.
Daniel Ragsdale served as deputy director of ICE and was promoted under President Barack Obama. Thomas Homan, ICE's executive associate director of Enforcement and Removal Operations, will take Ragsdale's place.
Homan is a former New York police officer and Border Patrol agent. No reason was given for Ragsdale's sudden replacement. 
The change came the same night Trump fired acting Attorney General Sally Yates after she questioned if the president's executive order, which bans refugees and people from seven Muslim-majority nations, was even legal. 
"I am confident that he will continue to serve as a strong, effective leader for the men and women of ICE," Secretary of Homeland Security John Kelly said in a statement. "I look forward to working alongside him to ensure that we enforce our immigration laws in the interior of the United States consistent with the national interest."
The personnel changes come amid growing controversy over Trump's immigration executive order, which has been marred with confusion on its enforcement.