Tea party congressman: "The women are in my grill" over Obamacare repeal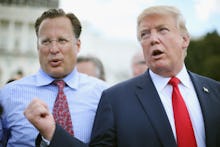 Rep. Dave Brat, a tea party Republican from Virginia, told a group of Republicans that the GOP is "getting hammered" for their efforts to repeal the Affordable Care Act, adding that people were being paid to protest the repeal. 
"Since Obamacare and these issues have come up, the women are in my grill no matter where I go," Brat told conservative activists at a meeting Saturday night, according to the Richmond Times-Dispatch.
"They come up — 'When is your next town hall?' And believe me, it's not to give positive input," Brat said of the women who were in his "grill."
Brat later told the Richmond Times-Dispatch that he thought the people speaking out against a repeal of the ACA were "paid protesters" — a common refrain among Republicans in the wake of mass protests against President Donald Trump in the first two weeks of his presidency.
"I had one woman on my Facebook say she was going to get up in my grill," he told the Richmond Times-Dispatch. "There's paid protesters ... paid activists on the far left, not my Democratic friends I go to church with.
Republicans are in the throes of trying to craft a plan to "repeal and replace" the ACA, a promise they've been making since the law was passed in 2010. 
However the GOP has not rallied around a replacement, and congressional Republicans expressed concern that repealing the law could have political blowback on their party in the 2018 midterms, according to leaked audio from a congressional retreat they held Thursday.