Restaurant posts "Minorities Need Not Apply" sign — but not for the reason you think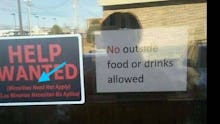 Plenty of restaurants have offended customers with politically insensitive signage in the past. Take, for example, when Hooters joked about rape in its ads, or when an Italian restaurant showcased a "Black Olives Matter" billboard. 
So, a blatantly racist sign in a South Carolina restaurant surfacing on social media seemed pretty believable. 
When a "Help Wanted" sign reading "Minorities Need Not Apply" in English and Spanish was posted up on the door of Kenny's Home Cooking, a South Carolina restaurant, folks on the internet began dragging the establishment for discriminating against minorities. 
A customer posted an image of the sign to social media, resulting in an immediate backlash against the restaurant, WYFF4, a South Carolina news station, reported. 
The sign quickly spread on Facebook and Twitter. Some people were outraged over the discriminatory message. 
Others seem to be celebrating the sign. 
But in fact, it was all allegedly a big misunderstanding, 
The restaurant owner, Sook "Sue" Shin, is Japanese and did not understand what the sign said, WTFF4 reported. Neither Shin nor her husband, who is Korean, speak English as a first language. They bought the sign on eBay and thought that "minorities" meant "minors." 
According to an old post on Pinterest, the sign was potentially sold on a site called JackAss Toys that is now defunct. The Twitter bio for the site noted it sold "hilarious gag gifts, prank items, and politically charged, right-wing products." 
Kenny's Home Cooking has been so inundated with complaints about the sign that the restaurant changed its outgoing voicemail message. In the message, Shin said the following: 
Hi, my name is Sook, I am the restaurant owner. I'm really sorry for the sign that was posted here. I didn't know what it meant. When I knew, I took it off right away. English is not my first language and i never thought about it. I want to answer to everybody but it's too many people [calling] me so I leave this message. Again, [I'm] really sorry for everything. Bye. 
Servers told WTFF4 that they hadn't noticed the sign before because they enter and exit the restaurant through a back door. 
After learning about the sign mix-up, some people on social media had sympathy for Kenny's Home Cooking
One Twitter user pointed out that the misunderstanding is very similar to blurring of fact and fiction, and cautioned about "alternative facts." 
Fake news, fake signs, heck, fake fish... there are a lot of phony things plaguing Americans these days. Perhaps the lesson here is to listen before leaping to conclusions. 
The saying goes "Don't judge a book by its cover," but if this restaurant is any indication, we shouldn't judge a restaurant by the prank sign the owner accidentally used.