The 11 best Super Bowl halftime performances of all time: Prince, Beyoncé and more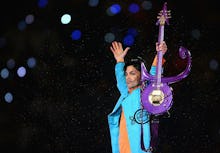 Lady Gaga is performing at this year's Super Bowl halftime show and we're sure to be in for a spectacle, even if it is one tough job. No matter how many hits you perform or how many surprise guests you have, something may go wrong, like a Left Shark stealing the show. But the halftime performance has become a pop culture staple for pop stars and music icons, some of whom have delivered some of their best performances in the middle of a football game. 
Many of us remember where we were when we heard the beginning of "Get Ur Freak On" in the middle of Katy Perry's halftime show, or when Kelly Rowland and Michelle Williams joined Beyoncé on stage for an iconic Destiny's Child reunion. From Shania Twain to Prince, here are the best and most memorable halftime performances. 
Shania Twain, Sting and No Doubt, 2003
Although 2003 feels like a very distant and far away period in time, it wasn't that long ago that Shania Twain opened the halftime show and Sting and No Doubt took on the second half. It's an enjoyable combination of artists who don't really go together, and while Twain was a bit lifeless, Gwen Stefani and Sting stole the show with their incredible energy. 
Aerosmith, 'N Sync, Britney Spears, Nelly and Mary J. Blige, 2001
The 2001 Super Bowl halftime show opened with shaky vocals from Justin Timberlake and the rest of 'N Sync performing "Bye Bye Bye," but it was the ridiculous combination of artists like Aerosmith, Britney Spears, 'N Sync, Nelly and Mary J. Blige that makes this halftime show one of the most memorable and insane ones to ever happen. Spears' football pants, Blige's energy, Steven Tyler being Steven Tyler and Nelly simply being there, it was truly a moment to remember. 
Janet Jackson and Justin Timberlake, 2004
The 2004 halftime show is, of course, one of the most memorable Super Bowl performances to ever occur, but for all the wrong reasons. Well, just one reason. Jackson opened with her insatiable hit "All for You" and served up choreography like none of your current favorite pop stars can. Then there was a brief and rough midsection with performances from Diddy, Kid Rock and Nelly (who seems to always be free for the NFL). Jackson then returned with "Rhythm Nation," but it was the final song that would make the pop culture history books. Justin Timberlake came out to perform his song "Rock Your Body" alongside Jackson — and then the nipple flash seen around the world happened. 
Michael Jackson, 1993
Janet wasn't the only Jackson to perform at the Super Bowl halftime show. In 1993, Michael Jackson gave us a showstopping performance to remember. He ran through hits like "Billie Jean" and "Black or White," only to close with "Heal the World," which will always reduce us to tears. 
Diana Ross, 1996
In 1996, Diana Ross slayed the Super Bowl halftime show with the most Diana Ross kind of performance we could expect, filled with ridiculous outfits like that iconic long gold cape, and all of her hits. The best part is that she exits the performance via a helicopter that picks her up in the middle of the stadium, which is the most Diana Ross thing ever. 
U2, 2002
U2 had the difficult task of performing just a few months after the tragic events of 9/11. Bono and company took the stage for a somber, touching tribute to those who lost their lives, displaying their names on a screen behind them while the band performed its 1987 hit, "Where the Streets Have No Name." 
Katy Perry, 2015
Katy Perry's performance was memorable for all of the right and wrong reasons. There is, of course, Left Shark, the bumbling backup dancer in a shark costume that became an instant meme and stole the spotlight away from the singer. While Perry was slightly overshadowed by the confused shark, she went on to deliver her hits like "Dark Horse" and "Teenage Dream," but it was this showstopping moment that had all the viewers at home unprepared: the triumphant return of Missy Elliott. 
Bruce Springsteen and the E Street Band, 2009
Bruce Springsteen and the E Street Band gave a rousing halftime show that even included Springsteen having an accidental run-in with one of the cameras, but he survived. The Boss performed classics like "Tenth Avenue Freezeout," "Born to Run" and "Glory Days," giving viewers a nearly 14-minute show they would never forget. 
Beyoncé, 2013
If anyone was made for the Super Bowl halftime show, it is, of course, Beyoncé. We're still screaming from the legendary Destiny's Child reunion, but it's Mrs. Carter herself who left us breathless. Seamlessly running through her hits like "Baby Boy," "Crazy in Love," "End of Time" and closing the show with "Halo," Queen Bey served up choreography, wind machine realness and vocals for days, setting the bar very high. 
Madonna, 2012
While distractions like LMFAO, Nicki Minaj and M.I.A kind of took away from Madonna's performance, the Queen of Pop delivered one of the most flawless halftime shows the NFL has ever seen. Going through her catalog of timeless classics like "Vogue," "Like a Prayer" and "Music," she gave us a true pop spectacle. 
Prince, 2007
Leave it to Prince to deliver the most unforgettable Super Bowl halftime show ever in the middle of a torrential downpour. Prince's performance is as good, and as Prince, as it can get. The legend, who passed away in April 2016, performed hits like "Purple Rain," "Let's Go Crazy" and "1999," and surprised everyone with covers of "We Will Rock You," "All Along the Watchtower" and "Best of You."