'Vanderpump Rules' Season 5 Spoilers: What will happen in episode 14?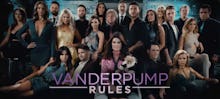 After a fourth season that thrilled critics and improved the show's reputation considerably, Vanderpump Rules season five has been a bit of a downshift. 
Bravo's drinks-and-drama reality series expanded its cast considerably in season five, leaving little time for long-term storylines beyond the monotony of Katie Maloney and Tom Schwartz's wedding planning. (Storytelling tip: Unless the details are delicious, never make something we already know happened the core plot of your reality TV season.)
Monday night's episode was no different, with a plot involving James Kennedy, SUR's erstwhile DJ/busboy, trying to get on the straight-and-narrow. But the ghosts of his past (ex-girlfriend Kristen Doute, enemy Jax Taylor, and two ex-lovers) show up at his DJ gig to haunt him. If we, as an audience, had any compassion for James, this might be a compelling story. But the Vanderpump Rules editors did such smart work dismantling his reputation in season four, any attempt to redeem him feels hollow.
The preview for the season's 14th episode, which aired after Monday night's episode, doesn't offer a ton of promise for high drama. Once again, we see the trials and tribulations involved in wedding planning. Katie and Schwartz are stressed! Will their marriage make it? (Again: It will.)
More interesting is the continued destruction of Scheana Shay's friendships with Kristen, Katie and Stassi Schroeder. Scheana's defense of Lala Kent, minor villain of the season, led to tension with her other three friends — a tension that looks like it's about to come to a head during brunch in the episode 14. Stassi and Ariana Madix, on the other hand, affirm their lack of affection for each other in the preview — which looks to be far too civil of dislike for this show.
Advice for them, but truly advice for everyone this season: Ratchet up the drama. No one watches Vanderpump Rules for the wedding planning.
The next episode of Vanderpump Rules airs Monday, Feb. 6 at 10 p.m. Eastern.