This model is set to make history as the first trans model to walk Indian Fashion Week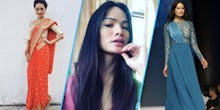 When model Anjali Lama walks the catwalk at Lakme Fashion Week, India's version of fashion week, this week, she'll not only turn heads — she'll make history. 
Lama, who was born in Nepal, is set to be the first-ever transgender model to walk in Lakme Fashion Week, a major feat for a country where four in 10 transgender people, or "hijras" as they're commonly known in India, experience violence before they turn 18. 
The road to this moment has been rocky. When she announced her desire to transition 12 years ago, Lama experienced not only prejudice but abuse, feeling wholly ostracized by her community back in Nepal. 
"Growing up in Nepal as a transgender was extremely difficult," Lama told Agence France-Presse. "In South Asian countries people still aren't that accepting, they treat it like an illness. The public looks at you differently and treats you in a different manner." 
After high school, Lama moved to Nepal's capital city, Kathmandu, and soon became an LGBT activist, working with the LGBT rights group Blue Diamond Society. During those years, she had friends mention modeling to her, given her long and lean frame. She gave it a shot and entered her first beauty pageant in 2007. By 2009, her modeling career had taken off, with a photo shoot for the Nepalese magazine Voice of Women. 
After that, however, she struggled to get gigs, which her agent told her was not only because of her identity, but also her age. So she set sights on India, a country whose Supreme Court recognized a third gender for transgender individuals in 2014. In 2011, Nepal started recognizing a third gender for its census. 
Lama first auditioned for Lakme Fashion Week in 2016. 
She got rejected that time, but in 2017 she got in. So now, at 32 years old, she finds herself making history and wanting to use this new platform to inspire other people just like her.
"I do hope to be an inspiration for other transgender people," Lama told AFP. "I'd like to tell them to always believe in themselves and to work towards their goals." 
Lakme Fashion Week runs from Feb. 1 to Feb. 5. 
Mic has reached out to Lakme Fashion Week for further comment.