4 facts about Gen. John Kelly, the secretary of homeland security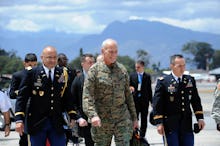 Gen. John Kelly, President Donald Trump's pick for secretary of homeland security, was confirmed on Jan. 20 shortly after Donald Trump was inaugurated. He is the fifth and current secretary of homeland security, succeeding former Secretary Jeh Johnson, who served under former President Barack Obama. 
Although Trump chose Kelly for his strong border policy, one of Kelly's first acts as secretary of homeland security was to order that green card holders were exempt from Trump's hastily-put-together Muslim ban. Kelly had expressed frustration that he was in the middle of being briefed on the order when Trump signed it into law.
Here are some key facts about our newest secretary of homeland security:
He's been in the military for nearly 50 years
According to his Department of Defense profile, Kelly, a Boston native, enlisted in the Marine Corps in 1970 and was discharged as a sergeant in 1972 to attend the University of Massachusetts. In 1976, he returned to the Marines and over the years held a number of different roles: Kelly served as a rifle and weapons platoon commander, company executive officer, assistant operations officer and infantry company commander. He was promoted to the rank of major in 1987 and later to lieutenant colonel, then promoted to colonel in 1995. After deployment in Iraq, Kelly was named commanding general in 2007.
He previously worked at the Department of Defense
Before being selected as secretary of homeland security, Kelly worked for the Department of Defense as commander of the U.S. southern command. Southcom, as Kelly detailed in a news conference announcing his retirement in Jan. 2016, is "all about broadening and deepening partnerships" in Central and South America and the Caribbean Sea.
"I will tell you that the partners we have in Latin America and the Caribbean like the United States and want to be associated with the United States," Kelly said at the time, noting that a few countries "didn't get the memo" but that "some of that is even turning around."
The Department of Defense noted in its account of Kelly's press conference that Southcom also focuses on "countering transnational organized crime, counterterrorism, drug interdiction, building partner capacity response and detainee operations."
He's a Gold Star father
In 2010, Kelly's son, Marine Corps 1st Lt. Robert Kelly, was killed in action in Afghanistan. In his news conference announcing his retirement, Kelly said of losing a child in combat: "There's a pride that goes with it." He also said that Gold Star families are "special, to say the least."
His border policy attracted Trump
Trump reportedly chose Kelly to head Homeland Security because of his "southwest border expertise," according to sources who spoke with the Washington Post following Trump's decision. As the Post noted, both Kelly and Trump expressed concern about threats coming from Central and South America as well as Mexico.
According to the Washington Times, during a 2015 meeting of the Senate Armed Services Committee, Kelly said "the relative ease with which human smugglers moved tens of thousands of people to our nation's doorstep also serves as another warning sign: These smuggling routes are a potential vulnerability to our homeland." After Trump nominated him for DHS secretary, Kelly released the following statement:
"The American people voted in this election to stop terrorism, take back sovereignty at our borders, and put a stop to political correctness that for too long has dictated our approach to national security. I will tackle those issues with a seriousness of purpose and a deep respect for our laws and Constitution. I am honored for the opportunity to be back in the service to our country, and our people."