'Quantico' Season 2 Spoilers: What will happen in episode 11?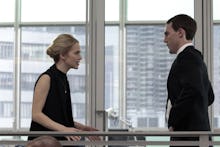 Episode 10 of Quantico ended with a bit of a nail-biter Monday night as the president narrowly called off an air strike that would have killed terrorists and hostages. And things will remain tense when episode 11 airs on Feb. 6. 
ABC's official synopsis for episode 11, titled "Zrtorch," teases that the AIC recruits will be "tasked with getting an asset out of Germany." Seems easy enough, right? Unfortunately for them, their target has a "death wish." 
As the recruits work on their mission, Alex will be trying to convince Owen that they have a traitor in their group. The problem is that Owen doesn't exactly trust her. Viewers will remember that he confronted her about her burner phone in episode 10 and promised to have her arrested if she didn't explain what was going on.
Finally, Monday's installment will also feature a scene from the future. The terrorists will "resort to new means to gain information from the hostages."
Watch the promo video for Quantico season 2, episode 11 below. Catch the episode when it airs Monday, Feb. 6 at 10 p.m. Eastern. on ABC.