Today's the last day to sign up for Obamacare — possibly forever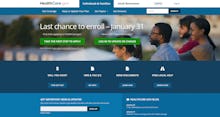 Drop everything. If you need healthcare for 2017 and haven't signed up yet, Jan. 31 is the last day you can enroll in the Affordable Care Act, or Obamacare.
As President Donald Trump and his fellow Republicans vow to dismantle the ACA — this may well be the last enrollment period for coverage, unless you have a qualifying event such as loss of coverage due to a layoff or divorce. (If you don't have a qualifying event, you still have other options outside the ACA.)
Here's how to sign up today and how procrastinating can hurt you:
How to sign up
Got to HealthCare.gov and create an account if you don't have one already; if you do, sign in. Then follow the instructions on the "get coverage" page — alternatively, you can go to "keep or update your plan."
Once you provide the relevant information about yourself, you can choose the options available in your state for individual or family coverage. Small businesses can sign up via this process, too. 
Why you need to lock in coverage now
Not signing up will still cost you because of the "individual shared responsibility payment." This is a penalty for not having coverage which, for an individual plan, is either $695 per month or 2.5% of your income — whichever is higher. (Caveat: the penalty is capped at the "total yearly premium for the national average price of a Bronze plan sold through the Marketplace.")
The next reason is an important one: Under the GOP's alternative plan, a lapse in coverage could be regarded as a preexisting condition by health insurance companies, making future insurance plans more expensive — or, worse still, leaving you completely uninsurable. 
Around a third of adults under 65 years old have what would qualify as preexisting conditions, were it not for the ACA provision which proscribes insurers from penalizing people for such conditions.
One popular component of the ACA that Republicans might replace is the provision requiring insurers to provide women contraception and reproductive counseling free of charge. 
"Plans in the Health Insurance Marketplace must cover contraceptive methods and counseling for all women, as prescribed by a health care provider," HealthCare.gov explains. "Plans must cover these services without charging a copayment or coinsurance when provided by an in-network provider — even if you haven't met your deductible."
In the absence of this provision, copayments for such services can cost women $600 annually, or $50 per month.
Higher costs won't just hit women, however. Without ACA, preexisting conditions for anyone might come back into play, meaning that people with cancer and diabetes, for example, could be denied coverage outright. 
Pre-ACA, one in seven people were denied coverage by America's major health insurance providers. 
No health insurance means little health maintenance, so medical ailments are often left until they are worthy of a emergency room visit. The cost of such a visit obviously varies depending on location and what you're being treated for. But say you have a bad upper respiratory infection — the median charge was $740 in 2013. Got a kidney stone? That would have set you back $3,437.
So sign up while you still can — time is very seriously running out. And you can find comfort in knowing that you'll be protected from these potential changes for at least the next year.
Sign up for The Payoff — your weekly crash course on how to live your best financial life. Additionally, for all your burning money questions, check out Mic's credit, savings, career, investing and health care hubs for more information — that pays off.