Anika Noni Rose talks 'The Quad' on BET, 'Dreamgirls' 10 years later and 'Hamilton'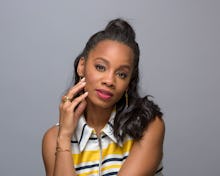 Anika Noni Rose is no stranger to the screen. Ten years ago, she starred alongside Beyoncé and Jennifer Hudson in the film adaptation of Dreamgirls. She's played supporting characters on The Good Wife and Power. On stage, she's a Tony winner and musical veteran.
But BET's new series The Quad, a scripted drama series set at a fictional university in Georgia, marks Rose's first time playing the lead on TV. Years into her career, playing series lead Dr. Ava Fletcher, Rose is hitting another high point.
Ahead of The Quad's Wednesday premiere, she talked in a phone interview about why Ava is type A but not tough, looking back at Dreamgirls a decade later and her involvement in the initial stages of Hamilton.
Mic: On The Quad, you play a tough university president, Dr. Eva Fletcher, starting work at Georgia A&M University and realizing how much entrenched power she'll be fighting. Where do you draw your inspiration for this character?
Anika Noni Rose: First of all, I don't think she's tough. I think she's very type A. She's very specific and meticulous. But she's not a tough person.
As far as drawing inspiration: I think she's there on the page. I just wanna make sure that I'm honest and true to who she is. I think she will, hopefully, be paying homage to every woman who has been in a situation where she is the only one, coming from something different, being harassed and harangued by the men around her who are uncomfortable with her only because they're intimidated. For every female president who's been fired in the last year for not much more than being female — those are the things that are on my mind.
What, to you, is the difference between a tough character and a type A character?
ANR: A type A person is just very specific. They go in, they've got their plan, they plan for things to go the way they plan. They put their work in. A tough person, depending on connotation, is probably more difficult to deal with — unable to bend, somewhat rough around the edges or harsh. You can be type A and not necessarily be harsh.
In one scene from the show, Eva faces off with Cecil Diamond [played by Ruben Santiago-Hudson], who makes a comment about Eva's blackness — or lackthereof. Her response is, "My ability to survive and my intellect are both very black." How do you think the show grapples with blackness?
ANR: I find it very interesting that that's a conversation that still needs to be had. I like that the show does not move around blackness. It is not the axel on which it spins. But I also like that we're not afraid to talk about it, and to talk about it within our own cultural community. So often, people don't want to air dirty laundry. They don't want to talk about things like that. I understand that, but this is something that is real, that affects people. It can be used as a weapon; someone's ability to be black or not — the color of their skin, what that means, what that connotes.
We just recently passed the 10-year anniversary of the Dreamgirls movie adaptation, which you starred in as Lorell, the third of the original Dreams. What kind of impact did that movie have on your career?
ANR: I think it made me very visible, in a really different way. I was known on Broadway, and I was extraordinarily visible there, but the film world did not know me. Television didn't know me. It was a real introduction. 
So I'm really thankful to [Dreamgirls director] Bill Condon, because he saw me in Caroline, or Change, and he saw me in Purlie at Encores! [at New York City Center], and that's how I came to his attention. I was really thankful that he came and he saw it and he brought me in. It was an amazing creative experience. I couldn't have asked for a better introduction to film, frankly. It was like, "Hey, why don't you come over to Hollywood and do what you do anyway?"
You were last on Broadway in 2014 in the A Raisin in the Sun revival — would you go back?
ANR: Absolutely. I'll never not do that. That's my home. That's where I grow. That's where I get sharper. That's where my instrument gets sharper.
You played Angelica Schuyler in the 2013 Vassar College workshop of Hamilton, long before it hit Broadway. Did you know back then what it would become?
ANR: I was so thrilled to be a part of it. I knew it was something really special. I knew it then; I knew it was phenomenal. I'm just really happy for Lin-Manuel [Miranda], and Alex Lacamoire, the creative team, because they made something amazing and life-changing. Frankly, they changed Broadway. It's amazing, and I'm thankful to have been a part of it.
The eventual Broadway Angelica was Renée Elise Goldsberry, who you worked with on The Good Wife when you played state's attorney candidate Wendy Scott-Carr. That show is coming back with a spinoff, The Good Fight, on CBS All Access. Do you think Wendy would pay a visit to the new show?
ANR: You'd have to ask the Kings! They were really good to me while I was there. They wrote amazing material, and tried to get me on the last episode, but I was working on something else — I think I might have been working on the Quad pilot. But I had a really positive experience, and I think that no door is closed until you turn the lock.
The Quad premieres Wednesday, Feb. 1, at 10 p.m. Eastern on BET. This interview has been edited and condensed for clarity.
Mic has ongoing Hamilton coverage. Please follow our main Hamilton hub here.