9 books by black authors you need on your Black History Month reading list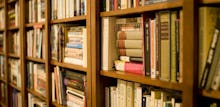 Feb. 1 marks the beginning of Black History Month, a time devoted to honoring the history of black Americans as well as educating people about the challenges they've faced throughout history and in the present day. 
Countless options exist to further one's education during this time — and after Feb. 28 — about the history and the current issues regarding diversity and race relations in America. Just one of those options is to crack open a book or two written by a black author. These are just a few options, but if you're looking to expand your reading list, this is a good place to start. 
1. The Color Purple 
If you haven't read Alice Walker's classic story of a woman overcoming a life of hardship by now, then you need to ask your high school and college teachers what they were thinking when they didn't include it in their curricula. This work, which highlights the social hardship of black women in the southern United States in the early to mid-1900s, is a classic for a reason. It's not an easy read: There is graphic sexual and physical violence, which has established the book's place on the American Library Association's list of the top 100 banned or challenged books. But there's a reason it was adapted into a movie and a musical, both of which were critical hits. 
2. Their Eyes Were Watching God
Zora Neale Hurston describes Janie Crawford's life in central and southern Florida in the early 20th century, as she goes through "ripening from a vibrant, but voiceless, teenage girl into a woman with her finger on the trigger of her own destiny." Janie's story is action-packed, with elements of politics, love, murder and travel, just to name a few. The book wasn't well-received by critics when it was first released, but it's now considered a literary classic. 
3. Invisible Man 
Ralph Ellison's only novel received the National Book Award in 1953 thanks to its blunt portrayal of the social and intellectual issues facing African-Americans during the early twentieth century. The narrator, who states "I am invisible, understand, simply because people refuse to see me," goes through life balancing opportunities with injustices as he learns repeatedly that people use him as a pawn or a symbol in pursuing their own goals. 
4. Beloved 
Inspired by a newspaper story she found while editing The Black Book, Toni Morrison's novel recounts the life of a woman who, rather than submit her child to a life of slavery, kills her daughter when her owner comes looking for her. Now, the ghost of that daughter is back and haunting her mother. The story is deeply personal, addressing mother-daughter relationships as well as romantic and racial interactions. Beloved was ranked the best work of American fiction from 1981 to 2006 by a New York Times survey of writers and literary critics. 
5. On Beauty 
Described by The Observer as a "transatlantic comic saga," Zadie Smith's novel follows the interactions of two families living in the United States who find their lives constantly intertwining. Depicting cultural differences as well as clashes in academic and political values and racial identity through physical appearance, Smith's novel takes its title from Elaine Scarry's book On Beauty and Being Just.  
6. An Untamed State 
The debut novel by feminist writer Roxane Gay, An Untamed State narrates the abduction of Mireille Duval Jameson through a focus on fairy tales. Depicting traumatizing events through this framing device, Gay's story questions society's complicity in declining to act when witnessing injustice and violence. 
7. The Bluest Eye 
Toni Morrison's first novel tells the story of Pecola, a woman who suffers from low self-esteem, feels painfully ugly and longs to possess the physical attributes of culturally approved beauty at the time, including light skin and blue eyes. The book, which addresses racism, incest and child molestation, has been the subject of numerous attempted bans from schools and libraries. 
8. Americanah 
Chimamanda Ngozi Adichie's novel follows the life of Ifemelu, a young woman who comes to America from Nigeria to attend college. Cultural conflicts fill Ifemelu's life as well as that of her high school sweetheart Obinze, as the two struggle to build a life together despite racial and political differences that work to separate them. 
9. Boy, Snow, Bird 
A loose adaptation of the story of Snow White, Helen Oyeyemi's novel has been praised for its blending of classic fairy tales with present-day issues such as race relations and gender transition, as well as writing style. 
Mic has ongoing books coverage. Please follow our main books hub here.