US Holocaust Museum's "early warning signs of fascism" sign is going viral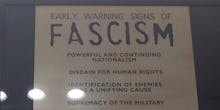 Those who don't know their history are doomed to repeat it. And one of the country's Holocaust museums wants to make sure that fascism doesn't make a comeback. 
On Monday, a Twitter user snapped a shot of a poster that listed the early warning signs of fascism, including "powerful and continuing nationalism" and "disdain for human rights." Judging by dollar sign symbol in the lower right hand corner, the sign looks to be a poster for sale. 
As of Tuesday morning, less than a full day since it was originally tweeted, the image of the poster had gotten over 141,000 retweets and over 195,000 likes. The poster is derived from a 2003 article detailing the potential warning signs of an incoming fascist regime. As the Daily Dot pointed out, the poster is sold several places online, including Amazon. 
Several Twitter users felt that the poster hit a little too close to home when it comes to describing present-day America. 
Friday was Holocaust Remembrance Day. The White House drew massive criticism when its official press release failed to mention Jewish people. When pressed to answer why they left out all references to Jewish people, the Trump administration doubled down and said they are an "inclusive" group who "took into account all of those who suffered." 
On that same day, Trump also signed an executive order halting the nation's refugee resettlement program and effectively banning people from seven Muslim-majority countries from entering the United States.