The sneaky way Apple is making it harder to buy a used iPhone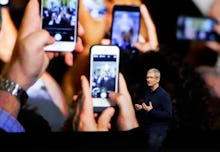 In the past, one of the best ways to get around the sometimes eye-popping sticker price of the latest Apple devices was to buy used or refurbished products, which can shave as much as $300 off the price of a new one.
Well, no more. 
Apple has quietly killed a feature called the Activation Lock status checker, which allowed you to look up a used iPhone's serial number online and see if the device was registered to someone else, according to MacRumors. The feature was put in place to make sure that the phone's user was the registered buyer in order to deter theft.
Now, if you try to bring up the Activation Lock page, you get an error message, and MacRumors reports that other references to the feature have been scrubbed from the website. 
Apple didn't immediately respond to request for comment about the report's accuracy and whether the feature was killed for any particular reason, although a later MacRumors report suggests that there may have been a security issue with the feature, which hackers may have used to unlock bricked devices.
Still, that doesn't explain why the company was so stealthy about it, or why it felt the need to scrub old references from its website. A second possible explanation is that Apple prefers its customers to buy new phones instead, which will set you back about $650 for a 32GB iPhone 7.
With Apple's sales growth slowing over the past year, it's no wonder the company isn't too keen on people buying used devices off eBay and other third-party sites. 
Some investors are starting to wonder if the company's best days are behind it; Apple's board gave chief executive Tim Cook a 15% pay cut to $8.7 million in 2016 after missing sales targets. 
The company reports earnings Tuesday afternoon, and all eyes will be on iPhone sales, a key engine of the company's profitability. 
Sign up for The Payoff — your weekly crash course on how to live your best financial life. Additionally, for all your burning money questions, check out Mic's credit, savings, career, investing and health care hubs for more information — that pays off.