The All Woman Project's latest campaign shows the beauty of women of various sizes, ages and colors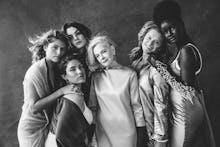 For its first photo series, the All Woman Project aimed to show off the beauty of women of various different shapes and sizes. The founders, models Clémentine Desseaux and Charli Howard, brought on women of various different races who model straight and plus sizes, and they all posed together for a photoshoot to show the fashion world what it's been missing. 
Now for its second photo series, the All Woman Project teamed up with the brand Aerie to not just show the beauty of different shapes and sizes, but various different colors and ages in order to expand what diversity in fashion really means — and looks like. 
This time around, Desseaux and Howard are joined by Aerie model Iskra Lawrence... 
...surfer Quincy Davis... 
... Senegalese model Khoudia Diop, who's made headlines for her dark skin... 
... fitness expert Holly Rilinger... 
... blogger and professor Lyn Slater... 
... and models Mari Agory and Paloma Elsesser. 
"We're loving the new type of diversity represented in this one," Desseaux said in an interview with Mic. "We're going for women of all paths, ages, sizes, culture and colors. We're just planning on pushing the boundaries of what's expected a little more each time." 
"Like last time, we asked friends, we scouted Instagram, we read magazines and we also met amazing women along the way," Howard said in an interview with Mic. "It was really hard trying to pin everyone down on the same day in New York, but we have such a great line-up and can't wait to find more amazing women to add to our roster." 
Of course, one of those brands that's realizing that is Aerie, which worked with Desseaux and Howard for this particular campaign. Since it's stopped digitally editing models' bodies in photos, sales have been way, way up. 
With these photoshoots, Howard and Desseaux aren't exactly trying to call out the fashion industry for its rather slow embrace of diversity. All they're trying to do with these projects is create campaigns women can see themselves in and yeah, to show the industry what it's missing. 
"Those women are everything one could inspire to become," Desseaux said. "They're smart, passionate, loving and beautiful, strong and more importantly real and true to who they are. They are legitimate role models and deserve all the claps." 
And according to Desseaux and Howard, this is far from the last installment for this project celebrating diversity. From now on, they only hope to broaden the scope of what diversity in fashion really looks like. 
"[We want] more and more women begin to see themselves represented in the models we've used," Howard said. "We've still got a long way to go, but we feel we're getting there." 
Jan. 31, 2017, 1:17 p.m.: This story has been updated.