General Strike Feb. 17: What will happen if activists stage a nationwide strike against Trump?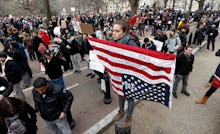 In a column for the Guardian on Monday, American writer Francine Prose called for a "nonviolent national general strike" to demonstrate "how many of us there are, how strong and committed we are, how much we can accomplish."
She wrote: "Let's designate a day on which no one (that is, anyone who can do so without being fired) goes to work, a day when no one shops or spends money, a day on which we truly make our economic and political power felt."
Calls to do just that have been circulating online recently, with activists setting Feb. 17 — the Friday before President's Day — as the day for a #nationalstrike against the presidency of Donald Trump.
What is a general strike?
A general strike is an organized work stoppage by a large number of employees across a broad spectrum of industries in an effort to advance a political or economic goal. 
More common in Europe than in the United States, the general strike has its roots in the British working class movement of the mid-1800s; one of the first major general strikes in the United Kingdom occurred in 1842, when unionists and Chartists led a massive strike for better wages and political reform. About 500,000 workers across Britain participated in the strike, which staved off proposed wage cuts and improved working conditions in most factories. 
In the United States, W.E.B. Du Bois characterized the tens of thousands of slaves who abandoned plantations during the Civil War as a "general strike against slavery." He credited this general strike with winning the war for the Union by transferring the labor of the "black worker" from "the Confederate planter to the Northern invader, in whose army lines workers began to be organized as a new labor force."
"Once begun, the general strike of black and white went madly and relentlessly on like some great saga," Du Bois wrote in Black Reconstruction in America.
More recent examples of general strikes include one in Buenos Aires, Argentina, in 2014 — in which workers called for increased wages and lower taxes in response to higher living costs — and a nationwide strike across India in 2016. In India, tens of millions of public sector workers staged a 24-hour general strike against the "anti-worker and anti-people" policies of Prime Minister Narendra Modi. It was the "world's largest ever" strike, according to union officials. 
What could a general strike against Trump accomplish?
In her Guardian column, Francine Prose praised the widespread protests that have erupted across the country in response to the Trump administration — most recently at airports in response to his xenophobic executive order on immigration. But, she wrote, "these protests are too easily ignored and forgotten by those who wish to ignore and forget them."
A general strike, then, could more aggressively "protest our current government's callousness about our environment and our health; its rampant greed; its disrespect for life, liberty and the pursuit of happiness," according to Prose. 
"It's hard to think of a nonviolent movement that has succeeded without causing its opponents a certain amount of trouble, discomfort and inconvenience," she wrote.
The proposed Feb. 17 general strike is still in its early stages, but it has gradually gained interest over the course of the week.