'Skate 4' Tweet: EA teases new game for Xbox One and PS4, Tony Hawk possibly involved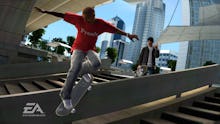 God bless Tony Hawk. Even though he's looking older all the time, he's feeling younger in his mind and trying to bring back the magic of the classic Tony Hawk's Pro Skater video games.
The last iteration, 2015's Tony Hawk's Pro Skater 5, was such a dumpster fire that it's a guarantee we'll never see a game with that branding again. However, there is still hope for that franchise's biggest competitor, EA's Skate series.
Skate 4 tweet: EA employee teases the game on Twitter
Here's what Daniel Lingen, the senior manager for community engagement at EA, had to say on Twitter a few days ago:
That's a bit odd, isn't it? Skate 3 came out in 2010 and the beloved series has been dead for the past seven years. Why tweet such a curious hashtag without another Skate game in the works?
The truth is that #Skate4 is a bit of a meme in EA's fan community. Fans have spent more than a year flooding EA's Instagram comments with the hashtag and nothing else, probably in the hope that EA will see it and realize people want a new Skate game. You can read all about it on Eurogamer.
This is speculation on our part, but it's possible this means EA is indeed working on a follow-up to Skate 3. It's also possible this means nothing and Lingen is just playing with our hearts. However, it doesn't look like the skateboarding video game dream is totally dead.
Skate 4 rumors: Tony Hawk teases new video game project
Though the video game series named after him floundered over the years, Hawk will never stop trying to bring us the virtual Christ Air greatness we know and love. There's an interesting quote from Hawk at the end of this Jenkem oral history of the Tony Hawk video game series:
I'm potentially working on something but it's so early I couldn't talk about it. I don't have any contracts signed but it's exciting. I feel like it's with the right people so I should know more in the next couple months.
He makes it clear that this new project is separate from Activision, the company that published all of the previous Tony Hawk games. While it's possible this has something to do with a new Skate game, keep in mind that it could also be something else entirely, like a mobile game. 
A new Skate game with Tony Hawk would be a pretty fascinating collision of styles. The Tony Hawk's Pro Skater series was an arcade-style celebration of skateboarding culture that wasn't especially interested in realism. Skate, on the other hand, was a little more tuned to people who enjoy skating in real life, though it had a sense of humor of its own. 
Again, it's possible that nothing is happening at all and you shouldn't expect too much until there's confirmation. Still, get your heelflip fingers ready just in case.
More gaming news and updates
Check out Mic for more news from the world of gaming, including gear in Injustice 2, lucky eggs in Pokémon Go, the Dark Moon event in Dota 2 and Overwatch LEGO figures.