How to beat Dark Moon 'Dota 2' event mode: Video guides and tips to help you win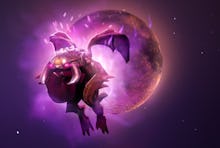 Wondering how to beat the Dark Moon Dota 2 event mode? If you're still having trouble winning but don't want to miss out on scoring some new rewards before the event ends on Feb. 6 you're in luck. We've rounded up a few videos that should help.
How to beat Dark Moon Dota 2: Everything you need to know
Dark Moon is a special event currently available for Valve's Dota 2. It began Thursday and runs through Feb. 6. 
The focus of the event is a special game mode that tasks you with defending Selemene's temple from waves of invaders. You work as a group of five players and face off against increasingly difficult enemies, including boss battles and special units with unique abilities. If you can make it through all 15 rounds and kill the final boss, you win.
Sounds simple enough, but there's a bit more to it than that. For example, you're limited to a handful of heroes — some of whom get altered abilities specifically for the Dark Moon event — which means you could be stuck using an unfamiliar character. Here are the ones you can use, according to the Dota 2 Wiki.
Even so, you should be able to beat Dark Moon Dota 2 without too much trouble by watching these player-made videos and imitating what they do to succeed.
How to beat Dark Moon Dota 2: Video guides
This video from YouTube account Dota 2 Meta offers an "Easy Strategy Guide," which should be a good place to start if you're having trouble beating Dark Moon.
If you're looking for something a little more advanced, check out this video from Dota2 HighSchool, boasting the "Dark Moon Fastest Kill World Record."
Finally, if you're tired of watching playthroughs and just want a detailed breakdown of the best heroes and items, this video from Goodboy Guides ' Dota 2 Combo List should do the trick.
More video games news
Check out Mic for more news from the world of gaming, including gear in Injustice 2, lucky eggs in Pokémon Go, the Dark Moon event in Dota 2 and Overwatch LEGO figures.