Can Democrats stall a Supreme Court nominee — and will they try to stop Trump's?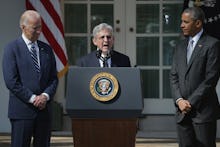 When Barack Obama nominated Merrick Garland to the Supreme Court in March, it became almost immediately clear that Garland would never make it to the bench — he wouldn't even make it to a confirmation hearing. 
Republicans in the Senate made sure of it, refusing to hold any hearings for Garland despite the support of 43% GOP voters who wished to move forward with the confirmation process. 
Now the tables are turned. Though Republicans continue to control Congress, Democrats bent on derailing President Donald Trump's agenda — as many Republicans were Obama's — have an opportunity to stall Trump's own Supreme Court nominee.
Will they take it?
According to Politico, some Senate Democrats are planning on filibustering Trump's pick.
"We will use every lever in our power to stop this," Sen. Jeff Merkley (D-Ore.) told the outlet on Monday.
Merkley said he also plans on fighting Senate rules that would typically allow a Supreme Court justice pick to be confirmed with a simple majority. The Oregon senator said he'll move to require a supermajority vote, meaning Trump would need at least 60 votes to confirm his nominee.
CNN, however, reported that Senate Democrats are weighing their options more carefully. Democrats, they say, could be saving their energy for a justice who would have a greater impact on the skew of the bench. Trump's upcoming pick would only be replacing Antonin Scalia, whose conservative beliefs will likely align with those of whoever Trump selects. (Last week, Trump told the Christian Broadcasting Network evangelicals will "love" his pick.)
Should Trump have the opportunity to pick a second justice over the course of his presidency, he or she could be the one to make good on Trump's promise to overturn Roe v. Wade or help implement any of the other seismic ideological shifts Trump has planned.
"Preserving the filibuster now could give Democrats more leverage in the future, proponents of this strategy say," reads CNN's report. "But it would enrage the Democratic base that wants a furious Democratic response to Trump's court pick."
Sen. Chris Coons (D-Del.) is among those who are trying to keep their cool in preparation for the long battle ahead.
"I'm not going to do to President Trump's nominee what the Republicans in the Senate did to President Obama's," Coons told CNN, adding he's still "seething" over the Republicans' refusal to hold hearings for Garland. 
"I will push for a hearing and I will push for a vote."
At the same time though, Senate Dems like Merkley are ready to put up on of their first major affronts to the Trump administration.
Merkley said, "A very large number of my colleagues will be opposed."