Tech companies are taking litigious action against Donald Trump's immigration ban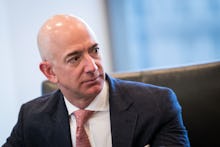 Amazon CEO Jeff Bezos sat four seats away from Donald Trump in December after accepting the president-elect's invitation to a technology roundtable. Now, less than two months later, Bezos has publicly declared his support for a lawsuit filed against Trump and his administration. Life comes at you fast.
The lawsuit, filed Monday, says that Trump's executive order banning the entry of visa holders from seven Muslim-majority countries to the United States will hurt both Washington state's economy as well as its businesses. Microsoft and Expedia, also based in Washington, are supporting the lawsuit as well. 
But these three aren't the only tech companies now publicly opposing Trump's immigration ban: Github, Google, Airbnb and Netflix are among a slew of other companies planning to meet on Tuesday to discuss filing an amicus brief in support of a lawsuit against the immigration executive order, CNBC reports. It's unclear whether the amicus briefs will offer support for the aforementioned lawsuit or another suit filed on Monday by the Council on American-Islamic Relations.
These litigious moves closely trail an onslaught of public statements coming out of Silicon Valley that made clear their stance against Trump's executive order. But where was this Silicon Valley in December, post-election and after Trump had already declared that he would "absolutely" implement a Muslim registry?
Why now?
After the election, Silicon Valley was criticized for its eagerness to work with Trump. "Why would you want to sit at the table with them?" Leslie Miley, former director of engineering at Slack, told Mic in a phone call in December. "That's the question. There is no economic benefit you will gain that is worth that seat. If you make that decision, you may not be a bad person, but your priorities are horribly misaligned."
"Literally, let's take a stand," Miley said. "Let's not do what we've always done, which is excuse it like Facebook excused [Trump donor] Peter Thiel. Excuse it like so many other companies have excused their executives from sexist, racist, misogynistic behavior."
Perhaps the tech companies didn't take Trump's plans seriously. It could also be that the executive order signed on Friday, and another one reportedly in the works, could greatly impact their bottom line. Bloomberg reported that the Trump administration has drafted another executive order "aimed at overhauling the work-visa programs technology companies depend on to hire tens of thousands of employees each year." And so, the deafening silence of post-election Silicon Valley has ended.
Whether the flood of statements from Silicon Valley was a product of belated human decency or fear for the future of business is unclear. What is clear is this: Tech companies have finally woken up to the very real threats this administration poses, and it would quite frankly be baffling to see the likes of Bezos, Larry Page, Sheryl Sandberg and other tech leaders quietly accepting a seat at the administration's table again.