Trump Cabinet Confirmations: Jeff Sessions confirmed as attorney general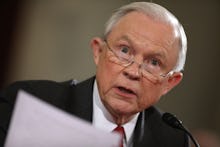 Sen. Jeff Sessions (R-Ala.) will be the next U.S. attorney general, after the Senate voted Wednesday, 52-47, to confirm him as the nation's top law enforcement officer.
Every Democratic senator voted against Session except for former West Virginia Gov. Joe Manchin, who the Guardian's Ben Jacobs reported flashed Sessions a thumbs up in the chamber.
Sessions was one of Trump's most controversial nominees.
Even among his GOP colleagues, Sessions was out of the mainstream, holding ultra-conservative views on immigration. He was also the first senator to endorse President Donald Trump, backing his bid early on during the presidential primary.
Sessions has been a contentious figure over the course of his career. In the 1980s, Sessions was denied a federal judgeship after a former employee accused him of making racist comments — an accusation he fought hard to dispel during his confirmation hearings.
Still, Sessions was met by protesters concerned with his history on race.
And in a stunning moment, three sitting African-American members of Congress — Sen. Cory Booker and Reps. John Lewis and Cedric Richmond — testified against Sessions, saying they were doubtful that Sessions would "aggressively pursue the congressional mandate of civil rights, equal rights and justice for all."
Republicans, however, got behind Sessions after Trump nominated him as attorney general, and with a Senate majority, their unified support allowed Sessions to earn confirmation.
Sessions will now take over the Department of Justice as it faces legal challenges against Trump's policies, including his Muslim ban executive order and his threat to cut off funding from so-called "sanctuary cities."
Tom McKay contributed additional reporting to this article.
Correction: Feb. 8, 2017