Trump Cabinet Confirmations: Betsy DeVos confirmed as education secretary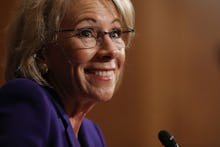 Betsy DeVos, billionaire Republican megadonor and school voucher advocate, was confirmed Tuesday as head of the U.S. Department of Education, despite a loud outcry from education advocates and Democrats who said she was unqualified for the job.
The Senate confirmed DeVos by a thin margin, with Vice President Mike Pence breaking a tie in her favor. 
DeVos' confirmation will go down in the history books as the first Cabinet secretary to be confirmed by a tiebreaking vote by the vice president.
Democrats saw a glimmer of hope last week to scuttle the nomination when two GOP senators — Susan Collins of Maine and Lisa Murkowski of Alaska — announced they would vote against DeVos' nomination, raising doubts about whether she would be confirmed.
Senate Democrats held an all-night talk-a-thon before DeVos' confirmation vote, hoping to convince one more Republican senator to vote "no" on her nomination.
But no other Republicans joined Collins and Murkowski, allowing DeVos to win confirmation by the skin of her teeth.
During the confirmation process, DeVos emerged as one of President Donald Trump's most controversial nominees.
She was unable to answer basic questions on education policy, including a debate on proficiency versus growth. 
DeVos' remark about needing guns in schools to ward off grizzly bears also became a viral moment for all the wrong reasons.
Ahead of her confirmation vote, CNN reported that DeVos apparently plagiarized quotes in a questionnaire she submitted to the Senate Committee on Health, Education, Labor and Pensions.
Sen. Al Franken (D-Minn.) even called DeVos' confirmation hearing the "most embarrassing I've ever attended."
Still, DeVos was confirmed to the role, where she'll advise Trump on federal education policy, and oversee things such as student loans and Pell Grants.