'Supergirl' season 2, episode 11 preview: What will happen in "The Martian Chronicles"?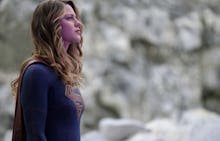 In Monday night's episode of Supergirl, titled "We Can Be Heroes," Kara's nemesis, Livewire, made her electric return to National City. Perhaps the most interesting part of the episode, though, was the subplot featuring J'onn J'onzz and M'gann. You may recall that M'gann (whom DC fans know as Miss Martian) had been masquerading as a Green Martian before revealing her true White Martian nature to J'onn by saving his life with her blood. 
J'onn's deep hatred for White Martians, who were responsible for the near extinction of his race, led him to lock M'gann away in the Department of Extra-Normal Operations, despite knowing that she saved him from certain death. We hadn't seen much of M'gann since then, but in "We Can Be Heroes," she comes under a psychic attack, ultimately leading J'onn to save and forgive her. 
In season two, episode 11 of Supergirl, titled "The Martian Chronicles," the two will have to work together as Earth once again comes under the attack of a White Martian. 
Synopsis and promo
In the latter moments of season two, episode 10 of Supergirl, M'Gann reveals to J'onn that her race has discovered that she has been hiding on Earth, and will now come to punish her for her betrayal (i.e., saving the Green Martians). Check out the official synopsis, via ComicBook.com, for season two, episode 11 of Supergirl below:
WHITE MARTIANS ATTACK THE DEO — Armek (guest star Terrell Tilford), a White Martian, descends on National City intent on taking M'gann (guest star Sharon Leal) back to Mars to face her punishment as a traitor. Hank (David Harewood) and Supergirl (Melissa Benoist) determine the best way to keep M'gann safe is to bring her to the DEO. However, when it is revealed that Armek shape-shifted into M'gann and is now loose in the building, the team realize he could be disguised as any one of them.
You can watch the promo for "The Martian Chronicles" below:
Supergirl airs Mondays at 8 p.m. Eastern on the CW.
Mic has ongoing coverage of Supergirl. Please follow our main Supergirl hub here.