Lady Gaga Halftime Show: Behind-the-scenes look at her 2017 Super Bowl performance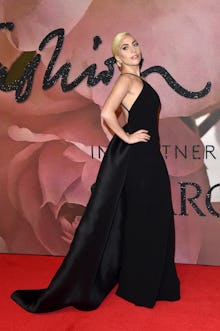 Lady Gaga is just days away from performing at the Super Bowl Halftime show. Mother Monster is currently going through rehearsals for the big show, and based on a behind-the-scenes video, it looks like Gaga has a few tricks up her sleeve. 
"There's an opportunity for us to use every inch of the stage to have dynamic moments," Gaga says in the clip, which was released by Pepsi on Monday.
Since Gaga has yet to confirm what songs she will be performing during the big show, rumors continue to circulate as to exactly what monster hits she'll be singing. However, another sneak peek may shed some light. A video of her dancers rehearsing made its way onto Twitter last week, and based on the clip, it looks like Super Bowl viewers will be treated to "Bad Romance." The dancers can be seen going through the motions of the song's iconic choreography. 
Gaga continues to tease fans on social media with some glimpses as to what we could possibly expect from the halftime show. Last week, she posted this image of her in a tied-up NFL T-shirt. She captioned the photo: "Time to go. It's showtime. And it's the one you've always been dreaming of."
On Monday, Gaga did confirm that rumored roof stunt in an interview with Boston's Mix 104.1 radio show, Karson & Kennedy. According to Gaga, the roof stunt is happening thanks to her sister Natali. "My sister was like, 'I know, let's suspend you in the air!'" Gaga said.
"First of all, there's a lengthy process to go through, meeting with the NFL and sort of applying and discussing what you would do in the first place. I think that part of how they decide who is going to come and do the halftime show is based on our ideas and what we want to do," the singer revealed about the precautions put in place for a stunt like this. 
"They were really excited about the show we wanted to put on. They've been super supportive. They've been there every day at the rehearsal space with us and cheering me on as I rehearse. It's been great," Gaga said about the experience so far and working with the NFL. 
Of course, Gaga's also got family cheering her on. She posted an adorable clip of her and her mother in the end zone of the NRG Stadium in Houston, Texas. The two do their best cartwheels and Gaga is clearly very excited for the performance.
The singer's social media presence over the past few weeks has been football heavy, as she has been nonstop rehearsing for the show. We can't wait to see what she delivers.