This is why Kevin Smith will not direct Ben Affleck in 'The Batman'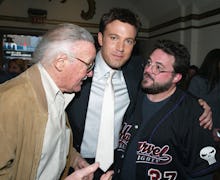 Despite assuring fans just a few weeks ago that he would indeed be directing the next Batman film, Variety is reporting that Ben Affleck has decided to step aside and allow someone else to helm the project. Affleck released the following statement:
 "Performing this role demands focus, passion and the very best performance I can give. It has become clear that I cannot do both jobs to the level they require."
With Affleck now focusing on his starring role as the Caped Crusader, speculation must turn to who will come on board as director. While Variety's report indicates that War of the Planet of the Apes director Matt Reeves is a leading candidate, there are fans who would prefer someone else. 
Wall Street Journal reporter Jared Diamond tweeted out his support for Kevin Smith, a geek icon and comic fanatic, as director of the next Batman film. Smith, who is perhaps best known for the "View Askewniverse," is not such a wild choice. Not only has he collaborated several times with Affleck, but he has also dabbled in the DC universe, recently directing episodes of The Flash and Supergirl for the CW. Smith also famously wrote the script to the failed Superman Lives project. 
Do not get your hopes up, though, as Kevin Smith quickly responded to Diamond's tweet, shutting down any rumors that he would be involved in the next Batman film before they even began. 
Is there a Ben Affleck and Kevin Smith feud?
Ben Affleck and Kevin Smith have worked together on quite a few films. In fact, Affleck has appeared in six films that Smith has directed: Mallrats, Chasing Amy, Dogma, Jay and Silent Bob Strike Back, Jersey Girl and Clerks II. Still, the two have not worked together on a film since 2006's Clerks II. 
As it turns out, the once good friends are no longer tight. Back in 2014, Smith spoke with Yahoo! Movies about San Diego Comic-Con, and was asked whether Batman v. Superman star, Ben Affleck, would be appearing at the convention. Here was his response: 
"Great question. I don't know, because we're not f—king tight. I have not been [close with him] in decades. That's old Ben. He's got a wife [Jennifer Garner] that don't care for me at all [Laughs]. And plus, honestly, he probably don't care for me at all anymore. He's a triple-A-list movie star and s—t like that. If he's Jimmy Carter, I'm Billy Carter, to put it in '70s terms. And I'm not even related and s—t."
Mic has ongoing coverage of Batman. Please follow our main Batman hub here.