Are Donald Trump's executive actions more in line with an authoritarian than a decisive leader?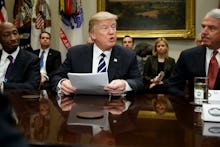 After Donald Trump fired his acting attorney general, the main question you may be asking: How big a deal is this? 
First, some background: Sally Yates was a Barack Obama appointee tasked with overseeing the Justice Department until Jeff Sessions is confirmed by the Senate. She was the first female U.S. attorney in Atlanta, specializing in public corruption, and spent more than two decades as a prosecutor and attorney before rising to deputy attorney general in 2015. 
Yates is unquestionably an experienced lawyer who knows the value of conducting herself ethically. So why would Yates order the department to not defend Trump's order on immigration and, as the White House said, "betray" America? Yates and Democrats say duty. The White House and Republicans say politics. 
Trump's firing of Yates Monday night immediately drew comparisons to former President Richard Nixon's "Saturday Night Massacre." In October 1973, Nixon ordered his attorney general to fire the special prosecutor investigating the White House's role in the Watergate break-in. Believing that order to be morally bereft, the attorney general and deputy attorney general both resigned. Monday night, hours after Yates directed her staff to stop defending Trump's most controversial move against numerous legal challenges, Trump sacked the Georgian via hand-delivered letter. 
Some questioned the point of Yates, or Trump, taking such drastic action only days before Jeff Sessions will likely become attorney general. Sessions expressed support for hard-line immigration moves in the past, though he did say in his confirmation hearing he would not support a "Muslim ban."
Yates and Sessions have something in common: They have both told the Senate they would stand up to the president if the law demanded it. In 2015, when Yates had her confirmation hearing before the Senate, Sessions asked her if she should blindly follow the president or enforce the law. Her response: "I believe that the attorney general ... has an obligation to follow the law and the Constitution, and to give their independent legal advice to the president." What did Sessions say during his confirmation hearings when asked if he could say "no" to the president? "[You] have to be able to say no, both for the country, for the legal system and for the president, to avoid situations that are not acceptable."
Ultimately, this isn't likely to bring Trump down, legally or politically. Cabinet heads serve at the pleasure of the president. Republicans, like Ted Cruz, were quick to say Yates had to be removed for her defiance. Democratic Senate Minority Leader Chuck Schumer said Yates was a "profile in courage" and called Trump's move "chilling." The partisan divide is likely to largely hold, with Trump's supporters celebrating his decisiveness and Democrats expressing even greater concern about his judgment.
The view from the left:
The view from the right:
But Monday night does set a notable and possibly dangerous precedent: Trump signaled that interpretation of the law by a seasoned legal official does not matter to him. (Watch out, Sessions.) It also showed he will use the White House to distribute stinging statements full of Trumpian language — like that Yates was an "Obama administration appointee who is weak on borders and very weak on illegal immigration" — to spin his message. Most of all, Monday gives government employees two options: Obey President Trump or he may say, "You're fired."
A little more: Meet your new acting attorney general. (Wall Street Journal) Dana Boente, formerly the U.S. attorney for the Eastern District of Virginia, immediately rescinded Yates' decision to not defend Trump's order. Like Yates, he is also known for his work in public corruption cases.
Another firing: Trump also sacked the acting director of Immigration and Customs Enforcement, another holdover from the Obama administration. Daniel Ragsdale was deputy director of the agency for part of Obama's presidency. ICE will now be led by Thomas Homan, the agency's deportation head. Unlike Yates, no reason was given for Ragsdale's firing.
This is Mic's daily read on Donald Trump's America — and how it affects you. Welcome to the political newsletter that Donald Trump once fired. Want to receive this as a daily email in your inbox? Subscribe here.
Highlights
•  Today: Betsy DeVos and Jeff Sessions are closer to running the departments of Education and Justice. DeVos was voted out of committee to approval before the full Senate by 12-11, with no Democratic support.
•  Democratic walkout: To prevent hearings on Trump's nominees to run Treasury and Health and Human Services, Democratic senators staged a walkout Tuesday morning. More below.
•  More: Hate your attorney Fire them, Donald Trump's doctrine prescribes — and the head of ICE, too, while you're at it.
•  Even more: Protests against the president's executive order on immigration continue. The move has deeply divided the government — so Trump signed another executive order. 
•  Yes, more: Countering rumors, the White House said it will not roll back an Obama order protecting LGBTQ Americans.
•  Tonight at 8 p.m.: the SCOTUS pick. Nothing may impact your life more than who Trump nominates for the Supreme Court.
•  Just for fun: Trump will sign another executive order this afternoon. This one will focus on increasing America's cybersecurity. Stay tuned.
•  Where's Trump? Washington, D.C.
Protests against the ban continue
Overt demonstrations and quiet backroom grumbling are building. On Monday, people again took to the streets to express outrage with Trump's temporary halting of the U.S. refugee program and temporary ban on immigration from seven Muslim-majority countries. Protests that dominated headlines this weekend continued around the country. Democratic leaders rallied in Washington, and Barack Obama weighed in (more on both of those below) against the ban. Wired and the New York Times are both out with new stories detailing how social media has become critical to successful protest and why the platform has the potential to sustain opposition to Trump.
Meanwhile, some Republicans seem ready to stage a revolt of their own. Politico revealed Monday night that several staffers — not their bosses — on the House Judiciary Committee helped the White House craft Friday's immigration order. According to the report, staff knowingly circumvented GOP leadership and did not consult lawmakers before Trump signed the order. How's that feel, Mitch McConnell?
As Rex Tillerson moves closer to becoming secretary of state, his new department has expressed outrage. As of Monday evening, more than 100 diplomats at State had signed a memo that dissented from Trump's immigration ban. (Washington Post) That news came as White House press secretary Sean Spicer said of those unhappy with Trump's order: "I think they should either get with the program or they can go."
An important real-life update on the ban: Here's how Trump's ban affects people with citizenship in the U.S. and one of the seven countries Trump has banned immigration from. (Mic)
Meet your two latest (probably) Cabinet secretaries
Hey! Wake up! News about people who could radically alter your life! As Trump's immigration order dominates the news, there is an update on the two names in Trump's proposed Cabinet that have drawn the most partisan praise and scorn: Betsy DeVos and Jeff Sessions are moving closer to joining Trump's Cabinet.
Betsy DeVos is expected to bring a fundamentally different view to the American education system. From the late 1700s and early 1800s, the U.S. has been rooted in the belief that the government should provide robust access to schools. The federal government gave 19 states federal land to create schools. The Department of Education has existed since 1867. Since 1965, the federal government has allocated dollars to schools with disadvantaged children. 
Democrats worry DeVos will change all of this. Republicans, especially those who believe there should be no federal oversight of education, hope she will change at least some of it. DeVos is a passionate supporter of charter schools and voucher programs, a government-funded alternative to public education for parents who want to send their child to a private school. She is also a major Republican Party donor, a billionaire philanthropist and a social conservative. It should also be noted that her efforts to reform Michigan's education system, her primary petri dish, have not been a success. And the fact that she has never held a position in public education irks some, though it attracts others. 
DeVos' hearing Tuesday morning was stretched by Democrats seeking to throw a wrench into her confirmation process. Democrats called her "unqualified" while Republicans offered varying degrees of support, signaling she will likely clear the committee vote.
The man from Alabama with a thick southern twang is a step closer to overseeing federal policy on civil rights, voting rights, presidential power, domestic surveillance, LGBTQ rights, abortion and much more. Jeff Sessions is a step closer to bringing views anathema to the Obama administration to the Department of Justice. Democrats have voiced opposition to Sessions again and again, hammering him on his record of protecting access to the ballot box. They have also questioned his states-rights stance on many issues, including whether he would sue states to protect access to abortion and civil rights. The NAACP, for example, is staunchly opposed to Sessions and fearful of his hand on America's top law enforcement agencies. 
Sessions will enter the Justice Department at a time of great upheaval. Following Trump's firing of Yates, the Alabaman may have to decide whether to obey the law or the president. Sessions will be tasked with helping to implement Trump's orders on immigration. He is also expected to review his agency's role in protecting voting and civil rights, issues protected at the federal level that have recently been somewhat rolled back. 
Like DeVos, Sessions was in the midst of a Senate Judiciary Committee hearing Tuesday morning that Democrats stretched to question Sessions' record.
Note that these votes come amidst continued drama over Trump's executive orders, increasing the likelihood of low-profile confirmations that do not gain as much traction as the hearings.
You really need to watch this...
Steve Bannon and Stephen Miller, two top advisers to Trump, are at the core of an effort to fundamentally reshape who America lets into the country. Trump's order on Friday, which they reportedly crafted, was only the first step. The Los Angeles Times wrote these two aim "to block a generation of people who, in their view, won't assimilate into American society." Mother Jones is out with another piece detailing deep ties Bannon and Miller hold to white nationalists and the alt-right movement. These are not liberal fantasies or Democratic talking points: It is fact that Miller has framed fighting terrorism as a religious conflict, and it is fact that Bannon cultivated anti-Muslim voices in his role running Breitbart. 
Bannon and Miller are consolidating power in the West Wing. Bannon, who holds a purely political role in Trump's administration, is seen as basically a co-chief of staff with Reince Priebus. Whether Spicer likes it or not, Bannon's seat on the National Security Council will remain controversial. 
News and insight you cannot miss:
•  After rumors Trump was planning to roll back protections for LGBTQ Americans, the White House issued a statement avowing the president's support for those communities. The statement says Trump will preserve Obama's order to prevent LGBTQ employees from being discriminated against at work. 
•  President of the European Council on Trump: The president of the United States — along with Russia, China and radical Islam — is one of the key threats to Europe. (Reuters)
•  Rudy Giuliani and Newt Gingrich are clearly still on the #TrumpTrain. They will lead the Great America Alliance, a political nonprofit dedicated to implementing Trump's agenda outside the White House and Congress. (Politico)
•  Trump and Spicer said Monday only 109 people were affected by Friday's ban. Ludicrously low, says the Washington Post's fact-checker: The actual figure is around 90,000. (Washington Post)
•  Hillary Clinton's advisers reportedly do not blame Vladimir Putin for their loss as much as Obama, their longtime ally. They argue the president's caution in not backing Clinton and condemning Russia early allowed rumors and speculation to haunt voters more than it would have with Obama's firm support. (Axios)
The loyal opposition: Senators find a home in the "resistance"
Obama broke his silence on Monday. "Citizens exercising their constitutional right to assemble, organize and have their voices heard by their elected officials is exactly what we expect to see when American values are at stake," read a statement from the former president's spokesman. The call to continue protests against Trump's ban and other measures added fuel to a growing need to demonstrate against the new president. And that is a narrative Democratic Senators are finally rallying behind.  
After taking a short honeymoon to judge Trump, senators are now doing anything they can to stall Trump's Cabinet nominees. Some have pledged to block whomever Trump nominates for the Supreme Court. They rallied Monday outside the Supreme Court to protest Trump's immigration ban. In a substantial minority, House Democrats are largely unable to be consequential in Congress. That leaves senators to make a mark as the opposition. 
On Tuesday morning, Democratic senators walked out of a committee meeting to vote on Trump's nominees for Treasury and Health and Human Services. Votes to approve Steven Mnuchin and Tom Price have been rescheduled following the Democratic boycott because the committee could not reach a quorum. (Washington Post) Sen. Orrin Hatch, chairman of the Senate Finance committee, said, "I am very disappointed in this type of crap."
Reality remains that Democrats have little power in Congress, meaning a full repeal of the Affordable Care Act, Cabinet confirmations and more will likely move through without Democratic support. But a filibuster over the Supreme Court nominee — who would need 60 votes to clear the Senate — could bring an interesting showdown.