When does 'Beauty and the Beast' come out in theaters? Watch the final trailer.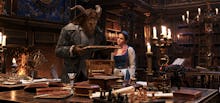 The final trailer for the live-action remake of Beauty and the Beast has dropped, and while the film has some high expectations to live up to, courtesy of nostalgia for the 1991 animated feature, it's looking like another big hit for Disney. 
Sure, it helps to have Emma Watson as your Belle, but the latest trailer also offers the first preview of John Legend and Ariana Grande's duet of "Beauty and the Beast," originally performed by Celine Dion and Peabo Bryson for the 1991 animated film's soundtrack. It's just a taste, but Legend and Grande's version lives up to the billing as well. 
Plus, for those itching for a glimpse of Belle dancing with the Beast, we get a glimpse in the trailer of their famous ballroom scene, featuring Belle's iconic yellow gown. 
The Beauty and the Beast remake arrives in theaters March 17. Tickets for pre-order are now on sale, and can be purchased here. 
Watch the final trailer below: