Senate Democrats stage walkout to block two Trump cabinet nominees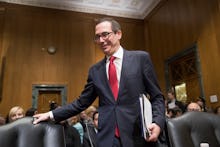 Senate Democrats staged a walkout from a committee hearing on Tuesday, effectively blocking two of President Donald Trump's cabinet nominees from receiving a confirmation vote.
The walkout occurred during a Senate Finance Committee vote on Health and Human Services nominee Tom Price and Treasury nominee Steve Mnuchin. 
Without a Democrat present during the committee vote, the nomination process can't proceed, according to Senate rules.
Democrats said they are blocking Price and Mnuchin's confirmation because they made false statements during their confirmation hearings. 
Democrats are also concerned about Price's ethics, after multiple reports surfaced that Price introduced legislation that would personally benefit companies he had purchased stock in.
Republicans on the committee accused Democrats of obstructionism after the walk out. 
"It's beneath the dignity of this body, it's beneath the dignity of this committee," Senate Finance Chair Orrin Hatch (R-Utah), said after the walk out.