Nintendo Switch Pro Controller Price: Preorders and bundles still available from GameStop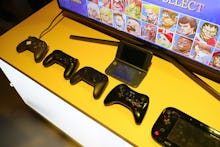 It's no secret the Nintendo Switch controller situation is out of hand. But that hasn't stopped the company from designing an all new controller for the Nintendo Switch pros out there — which, we'll admit, is damn comfortable to use. But what's comfort in a controller if you don't own it? That's where Nintendo Switch Pro Controller preordering comes in.
The Nintendo Switch's included Joy-Cons are more than usable for most every Switch game, but if you're looking for a classic-feeling gamepad experience the Switch Pro Controller may be for you. Here's where you can get it.
Nintendo Switch Pro Controller price and preorders at GameStop
The Nintendo Switch Pro Controller will run you $69.99, but where can you preorder one right now?
Unfortunately, the Nintendo Switch Pro Controller is currently unavailable for preorder at many locations. Options to buy the Switch Pro Controller at Amazon and Best Buy are coming soon, but GameStop has them right now.
Those anxious to put money down for a Nintendo Switch Pro Controller should look here. GameStop is allowing buyers to purchase the controller right now and the retail chain will bill you once the shipment begins processing. The Pro Controller will be shipped following the Nintendo Switch's March 3 release date.
Those looking for more than just the gamepad should also check out GameStop's Nintendo Switch Pro Controller bundle. Along with the controller, the bundle offers a carrying case for the Switch console and games, a screen protector and Joy-Con skins. The bundle costs $99.99.
Nintendo Switch Pro Controller price and preorder: Where else can you buy it?
GameStop may have the jump on everybody else for now in terms of Nintendo Switch Pro Controller preorders, but that's only temporary. Once March 3 arrives, many retailers will offer up the gamepad. Amazon offers the option to be notified when the Switch Pro Controller is made available; Best Buy doesn't currently offer that option but could add it soon. Retailers like Target and Walmart don't have Nintendo Switch Pro Controller product pages up on their respective websites yet — though this is expected to change soon, as well. We'll bring you more details as they become known. Stay tuned!
More Nintendo Switch news
For more info on the Nintendo Switch, check out details on the console's price, release date, preorders, battery life and our hands-on review. If you're interested in the Nintendo Switch's games, here's info on the new Super Mario Odyssey , Legend of Zelda: Breath of the Wild, Splatoon 2, Xenoblade Chronicles 2, 1-2-Switch and the goofy boxing game Arms.