These are the Republican legislators opposed to Trump's refugee executive order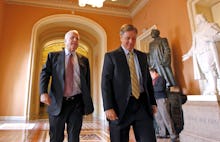 President Donald Trump's xenophobic executive order on immigration is not only hurting families and inspiring large-scale protests, legal challenges and a dissent memo from the State Department — it's also putting him at odds with an increasing number of members of his own party who have criticized the measure.
While many Republicans have expressed concern over Trump's Muslim ban, others — like Sens. John McCain and Lindsey Graham — have explicitly expressed opposition.
As of Tuesday afternoon, these are the Republicans in the House and Senate who have come out against Trump's executive order:
Senate Republicans
Seven Republican senators oppose Trump's refugee ban: Lamar Alexander of Tennessee, Susan Collins of Maine, Cory Gardner of Colorado, Ben Sasse of Nebraska, Jerry Moran of Kansas, Lindsey Graham of South Carolina and John McCain of Arizona.
In a joint statement Jan. 29, McCain and Graham said that the executive order was "not properly vetted" and that it may "become a self-inflicted wound in the fight against terrorism."
"Our most important allies in the fight against ISIL are the vast majority of Muslims who reject its apocalyptic ideology of hatred," McCain and Graham said. "This executive order sends a signal, intended or not, that America does not want Muslims coming into our country."
Trump sharply rebuked the statement, accusing McCain and Graham of "always looking to start World War III."
House Republicans
Nine Republican representatives oppose Trump's executive order: Justin Amash of Michigan, Mike Coffman of Colorado, Charlie Dent of Pennsylvania, John Faso of New York, Brian Fitzpatrick of Pennsylvania, Will Hurd of Texas, Leonard Lance of New Jersey, Ileana Ros-Lehtinen of Florida, Elise Stefanik of New York and Fred Upton of Michigan. 
In a series of tweets, Rep. Amash criticized the order as "an extreme approach not consistent with our nation's values."