How will the NBA and other pro sports leagues be affected by Trump's executive order?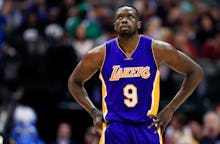 The impact of President Donald Trump's executive order on immigration is rippling across the sports world, where players and coaches critical of Trump are denouncing the "shocking" and "horrible" action that has spelled uncertainty for foreign-born athletes.
"I'm completely against what's happening," Golden State Warriors head coach Steve Kerr said. Kerr's father – a professor at the American University in Beirut – was assassinated by terrorists in 1984. Kerr was speaking in a post-game interview on Jan. 29 when he was asked about the new policy. 
"I think it's shocking; It's a horrible idea," Kerr said. "If we're trying to combat terrorism by banishing people from coming to this country, by really going against the principles of what our country is about and creating fear, it's the wrong way of going about it."
The order – which bars citizens and refugees from certain Muslim-majority countries, including Syria, from entering the United States – may restrict certain players, such as Milwaukee Bucks forward Thon Maker and Los Angeles Lakers forward Luol Deng, from traveling outside the U.S.
How Trump's order is affecting athletes
So far, the executive order has clouded the ability to travel for players from countries included in the ban.
Foreign-born players comprise 29% of the NBA, according to Sports Illustrated. While many have become U.S. citizens, others are in the country on green cards or employment-based visas.  Players like Maker and Deng, both of whom were born in Sudan — which is among the seven countries targeted in Trump's order — but hold dual citizenship may encounter difficulties re-entering the U.S. if they leave, including for any games they'd play against the Toronto Raptors. The NBA has contacted the U.S. State Department to determine how the order will affect player travel.
Like the NBA, the National Hockey League has teams in both the U.S. and Canada, and players have to travel between the two countries for games. While there do not seem to be reports of NHL players facing travel concerns themselves, New York Rangers forward Mika Zibanejad — who is Swedish — has family in Iran who are impacted by the executive order. 
"It hasn't been easy for them to come here, and this certainly doesn't make it easier, or even possible at this point," Zibanejad told the New York Daily News on Monday. "Right now it just sucks."
The ban has also affected four-time gold medalist Mo Farah, who was born in Somalia. It "seems to have made me an alien," the runner, who is currently training in Ethiopia while his family is in the U.S., wrote in a Jan. 29 Facebook post.
How the sports world is reacting
Trump's executive order was met with criticism from many across the sports world.
San Antonio Spurs head coach Gregg Popovich — a vocal Trump critic — lambasted the chaotic roll-out of the policy as "Keystone Kops-like by any measure with objectivity."
NASCAR driver Dale Earnhardt Jr. spoke out against the ban in a tweet, saying that "America is created by immigrants."
Olympic fencer Ibtihaj Muhammad, the first Muslim-American woman to wear a hijab while competing in the Olympics, added her voice to #NoBanNoWall on Twitter, condemning the executive order.