DACA renewal 2017: Here's how long the process takes and the forms you'll need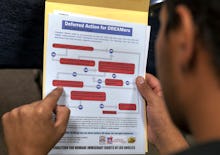 In June of 2012, former President Barack Obama signed an executive order called Deferred Action for Childhood Arrivals. The DACA order was a response to the failure of the DREAM act, which would have afforded legal status to certain groups of undocumented immigrants.
Under DACA, individuals brought into the U.S. before they were 18 years old — often called "DREAMers" — can receive a renewable waiver from deportation for two years.
While the Donald Trump administration can alter the program, it so far exists untouched. But given the hostility of the Trump administration toward immigrant populations, DREAMers should be vigilant to stay within the bounds of the program to prevent deportation.
Here are the numbers to remember.
150 Days
You should submit your DACA renewal paperwork 150 days before your current status expires. You can find the expiration date for your waiver on both the Form I-797 DACA approval notice and Employment Authorization Document (EAD).
The U.S. government suggests submitting the renewal paperwork between 120-150 days of your expiration, but we prefer to err on the side of caution. 
150 is the number to remember. Better safe than sorry!
3 Forms
You'll need to fill each out each of the following forms and submit them properly. So read the instructions carefully.
Form I-821D - Consideration of Deferred Action for Childhood Arrivals. Use the most recent listed version on the site. Outdated I-821Ds get rejected.
Form I-765 - This one is the Application for Employment Authorization.
Form I-765W Worksheet - The worksheet is really easy but cannot be skipped. The USCIS uses it to confirm your economic eligibility.
2 Years
After the expiration date on your two-year waiver expires, if you are over 18, you will begin to accrue unlawful presence. DACA must be renewed on-time or you are putting yourself at unnecessary risk of deportation. 
Visit the USCIS website for additional information about DACA and immigration.