Here's how Trump's deportation force will target undocumented immigrants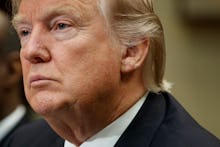 Less than two weeks into his presidency, President Donald Trump is quickly moving to implement the controversial immigration agenda he outlined during his campaign. He's enacted a ban on visitation and refugees from seven Muslim-majority countries. He's moved forward with plans to build a wall along the Mexican border, even if it isn't exactly clear how much it will cost or how it will be paid for. And he's starting to formulate his plan for a "deportation force," a way to locate and deport the millions of undocumented immigrants currently living in the United States.
Here's a quick look at some of the important details behind the president's controversial plan:
Trump is already adding officers.
One of the executive orders Trump signed at the end of last week called for hiring 5,000 new Border Patrol agents and 10,000 more Immigration and Customs officials. The latter group would help carry out deportations.
He wants local law enforcement involved.
Even with the influx of federal agents, Trump still believes he'll need help to carry out his plans. To this end, he wants local law enforcement to be involved in implementing his policies. Essentially, Trump wants to deputize more local law enforcement officers to act as agents in immigration matters. The program already exists, but was rolled back during the Obama years. Opponents of this plan say it increases racial profiling.
Paul Ryan doubts it will exist.
Speaker of the House Paul Ryan steadfastly claimed that there will be no deportation force during a televised town hall one week before Trump's inauguration. Ryan has yet to comment on the executive orders.
There will absolutely be more deportations.
Under former President Barack Obama, most undocumented immigrants targeted for deportation had been charged with crimes. Under Trump's new plan, the list of those targeted will be expanded to include people who have been charged with crimes but not yet tried, as well as undocumented immigrants who've received government welfare benefits illegally.