San Francisco is standing up to Trump's order punishing cities that shelter undocumented immigrants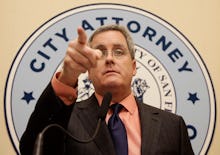 A city that only cast 9.4% of its votes for President Donald Trump isn't about to let its sanctuary city policy die without a fight: Dennis Herrera, city attorney of San Francisco, filed a lawsuit over Trump's executive order that threatens to punish cities that shelter undocumented immigrants.
Herrera filed the lawsuit in federal court Tuesday arguing that the executive order, which seeks to withhold federal funding from cities that does not to detain undocumented immigrants, is illegal. Citing the 10th Amendment, which states powers not granted to the federal government are the purview of the states, Herrera contends that Trump does not have the authority to cut federal funds over a matter of state and local policy. 
"This lawsuit is not a step I take lightly," Herrera said in a statement. "But it is one that is necessary to defend the people of this city, this state and this country from the wild overreach of a president whose words and actions have thus far shown little respect for our Constitution or the rule of law."
Federal law enforcement often requests the detainment of undocumented  immigrants, but cities do not have to comply. Because Trump cannot explicitly order cities to detain immigrants arrested for civil offenses, his order, signed last week, seeks instead to pressure cities to alter their policies by gutting their federal funding. 
Herrera argues that Trump cannot threaten to cut federal funds — including money that federal officials have already agreed to allocate to localities — because San Francisco's existing city policies with respect to undocumented immigrants are in line with federal law. 
San Francisco stands to lose $1.2 billion in annual federal funds if Trump's order is enforced. The projected deficit for San Francisco for the fiscal year 2017 to 2018 is $119 million, according to the San Francisco Chronicle.
The lawsuit joins a growing number of legal challenges to Trump's executive actions. The American Civil Liberties Union and other groups have challenged Trump's move on Friday that bans travel from seven Muslim-majority countries, suspend America's refugee program temporarily and give law enforcement additional discretion to screen travelers.