Here's what could become of mass incarceration and criminal reform under Trump's administration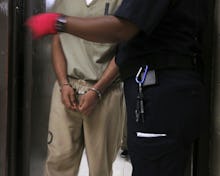 One of the hottest issues for progressives in the past few years has been mass incarceration: the idea that America is over-policing and over-imprisoning people for relatively minor crimes, and that young people of color are disproportionately targeted.
There have been a few key victories for critics of mass incarceration recently: the court ruling declaring "stop-and-frisk" policing unconstitutional and the narrowing of the crack vs. powder cocaine sentencing gap chief among them.
There is serious concern, though, that under a Trump administration much of the progress made towards ending mass incarceration will disappear. Here's a few reasons why activists and allies against mass incarceration are worried about the next four years:
Trump's focus on "law and order"
During his acceptance speech at the Republican National Convention last summer, Trump promised to bring back "law and order." In his inauguration speech, he talked about cracking down on gangs and drugs. While neither of those are clear-cut policy proposals, they both point to a presidency where the tendency is to err on the side of putting more people in jail, not fewer.
His U.S. attorney general pick, Jeff Sessions
Jeff Sessions, Trump's pick to be the "top cop" for the United States, is no friend of criminal justice reform. He's is against marijuana decriminalization. He could push federal prosecutors to seek lengthier prison terms. And he opposed reducing or eliminating mandatory minimum sentences for non-violent crimes. In short, he's a one-man wrecking crew against criminal justice reform.
His support for private prisons
Last year, the Department of Justice announced the federal government would no longer use private prisons. Trump, meanwhile, has praised the use of private prisons, which operate on a for-profit basis and trade stock on the exchanges. Private prison companies make more money when there are more people incarcerated. They are key drivers of the prison-industrial complex and of mass incarceration.
His other allies, including David Clarke
Sheriff David Clarke of Milwaukee has become one of Trump's most frequent supporters on television, and even spoke at the RNC last year. He is unabashedly dismissive about mass incarceration. Then there's former Sheriff Joe Arpaio of Arizona, another Trump supporter with a strong history of arresting and imprisoning lots of people.
Criminal justice reform is not a single issue, but a set of interconnected policies. So far, it seems that Trump favors increasing mass incarceration.