10 of the best comedy movies to watch on Netflix in 2017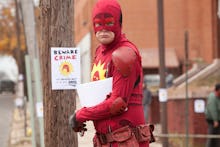 There are few things better than coming home from work, kicking up your feet and laughing away at a good comedy film. The problem is, it's not always easy to find a movie that's really funny. Sure, most comedies can produce at least a few chuckles along the way, but when's the last time you watched something truly hilarious? 
Alas, Netflix is here to save the day with 10 great comedy movies you can watch right now.
1. The Princess Bride
A parody of the common tropes found in virtually every swashbuckling movie ever made, The Princess Bride takes a satirical approach to romance, action and adventure. This classic comedy focuses on a man and woman who lived happily ever after, though they almost died in the process.
2. O Brother, Where Art Thou?
Perhaps the only thing better than a great comedy is a great comedy with an equally epic soundtrack. O Brother, Where Art Thou? is loosely based on Homer's Odyssey and follows a group of incarcerated men who break out of prison to embark on a quest for treasure — except there isn't any treasure at all. Secretly, George Clooney's character, Everett, is plotting to regain his wife's affection, a task that proves to be no easy feat.
3. Hot Fuzz
London cop Nicholas Angel is a badass. He's so much of a badass that he makes everyone else look terrible, so he's forced to transfer to a quiet English village with little crime. After two actors are found decapitated, Nicholas works with the local police to solve what can only be a conspiracy. Hot Fuzz is a perfect choice if you're looking for some action scenes to go along with your comedy.
4. What About Bob?
What About Bob? stars Richard Dreyfuss as renowned psychotherapist Dr. Leo Marvin and Bill Murray as Bob — a very, very needy client diagnosed with obsessive-compulsive disorder. Dr. Marvin just wants to be left alone while on vacation with his family, but Bob always manages to find his way back to him.
5. The African Doctor
The African Doctor follows Seyolo Zantoko, a Congolese doctor in France, as he and his family struggle to integrate into a small, rural village. Ultimately, Zantoko becomes one of the village's most respected doctors.
6. Super
What happens when an ordinary citizen becomes a superhero with no powers? Look to Super for answers, but be forewarned — it often doesn't go well. This action-packed comedy is all about a guy who transforms his life after his beloved wife leaves him for another man. Armed with a wrench and a haphazardly thrown-together costume, the Crimson Bolt takes to the streets to fight crime. His sidekick is pretty epic, too, but she normally ends up doing more harm than good. If you enjoy superhero movies like Deadpool, then Super is right up your alley.  
7. Ocean's Twelve
Danny Ocean is at it again in Ocean's Twelve. The sequel to Ocean's 11, this heist film is filled with hilarious dialogue and scenes only Brad Pitt, George Clooney and the crew could pull off. One of the movie's best scenes is when Ocean and his wife come face-to-face with their nemesis, the famed thief Toulour.  
8. Blue Streak
When Miles Logan gets out of prison, he sets out to retrieve the massive diamond he stowed in a ventilation duct moments before his arrest. The only problem is, the once under-construction hiding spot has turned into a police station. Logan's answer? Pose as a cop and stroll right into the building. Blue Streak is filled with quotable one-liners and is a classic comedy for a reason: It's gut-bustingly entertaining.  
9. Charlie and the Chocolate Factory
A remake of 1971's Willy Wonka and the Chocolate Factory, Charlie and the Chocolate Factory takes viewers through a fantastic world filled with edible delights. The magical journey is led by none other than the quirky Willy Wonka himself, who seems to take great pleasure in watching the children succumb to their own vices one by one. 
10. Tommy Boy
When Tommy finds himself in a new leadership position at his late father's auto-parts factory, the clumsy and immature protagonist of Tommy Boy ends up getting into serious trouble. In an effort to keep his father's company safe from the sneaky relatives and larger corporations looking to put it out of business, Tommy road-trips it with company employee Richard. Together, the pair creates some of the most memorable scenes in comedic history.