Kellyanne Conway desperately wants you to notice her and she's using clothes to make sure you do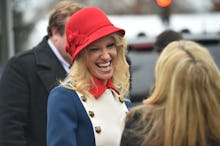 Before Donald Trump entered the White House, the fashion world had its eyes trained on Melania Trump. With her model past and affection for expensive designer duds, plus her being the next first lady after Michelle Obama, it felt natural to look at her style as a way to gain clues into what she might be thinking or how she might be feeling.
Then, people started talking about how Ivanka Trump might be the one to really look at, since she may be taking over some of the more typical first lady roles and duties, plus her own experience with a fashion line. 
But then Inauguration Day happened, and Trump's counselor and former campaign manager Kellyanne Conway showed up looking like this: 
A look she coined to be "Trump Revolutionary wear." A look she had to pay $3,600 to achieve. A look seemed to say, "Yes, I am both the most interesting and telling dresser in this here new White House. Here I am." 
The attention given to the outfit was no accident on Conway's part. She is, according to herself, the "the face of Trump's movement." So yes, of course, she wants to be seen — desperately so. She wants you to look at her while she talks about "alternative facts" or a "Bowling Green massacre" that never happened. 
She draws as many eyes to her as possible by wearing notable, stand-out outfits.  
In the very first days of the Trump administration, we saw this. On the Sunday after the inauguration, she appeared on political talk shows from the White House lawn wearing a glittery pin meant to look like the presidential seal, but with an enamel ring around it reading "President of the United States Donald Trump."
The day after that, she wore a bright orange jacket to the first White House press briefing of the Trump administration. 
The day after that, she wore a leather jacket. 
Since the inauguration, Conway has worn bright pink and red. On Wednesday she showed up looking like a pilgrim from 1695. 
And this is not at all a recent shift. Here's Conway back in December, with a huge statement necklace. 
And here she is before that in December, wearing red and a fur coat. 
In November, she even wore a poncho. 
Compare her looks and appearances to those of Melania and Ivanka Trump. 
While Conway loves a red or hot pink jacket, both Melania and Ivanka opt for subtle colors like white or beige or blue or black. To a formal dinner the night before the inauguration, Conway showed up in a sweeping red dress. 
To that event, Ivanka wore white and black and Melania wore beige sparkles.
And while we all know what Conway wore to the actual swearing-in, Melania and Ivanka wore this: 
The Trumps are reserved when it comes to fashion. They never look bad — and probably never will. Instead, they stick to classic silhouettes and colors that don't draw significant attention. Conway, on the other hand, appears to use fashion to draw as much attention to herself as possible. 
At this point, you may be asking yourself: Why is she like this? Why her? 
A hint to why is something she told the Hollywood Reporter: "If you see me on TV, it's because he wants me there." 
And that "he," of course, is Donald Trump. 
So maybe he's the mastermind behind having her dress like this. There are rumors swirling about Trump being obsessed with what his staff wears, so it'd make sense. Maybe he wants her to dress brightly to assure that people are paying attention, that she catches the eye. 
But then there is still the possibility that she just loves to be flashy. Whatever it is, it's beyond obvious at this point that she wants to be noticed — and she'll wear just about anything to make that happen.