Super Bowl kickoff 2017: Time, location and how to watch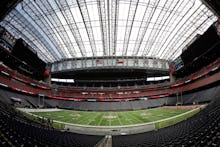 Atlanta Falcons and New England Patriots fans, Lady Gaga aficionados and those who just want to watch some of the world's most expensive ads will cluster around for Super Bowl 2017. 
While you place your bet on who is going to win, here is some important information about the NFL's most anticipated game: 
Time and date
Kickoff between the Falcons and the Patriots will start on Feb. 5 at 6:30 p.m. and run to 10 p.m. Eastern Time. 
Location 
The 51st edition of the Super Bowl will take place at Houston's NRG Stadium, home of the Texans and the place where Super Bowl XXXVIII was held in 2004, when the Patriots defeated the Carolina Panthers, 32-29. Houston was also the site of Super Bowl VIII at Rice Stadium on Jan. 13, 1974, when the Miami Dolphins beat the Minnesota Vikings. 
Lady Gaga is scheduled to play during the Super Bowl LI halftime show. 
How to watch 
Fox will be the Super Bowl's official broadcaster, and will have seven and a half hours of coverage prior to the official game. At 11 a.m., Fox will air NFL Films' Road to the Super Bowl, followed by Skip and Shannon: Undisputed Super Bowl Special at 12 p.m. Fox Super Bowl Kickoff will begin at 1 p.m. and Fox Super Bowl Presents is slated to broadcast from 2 p.m. to 6:30 p.m.  
Fox Super Bowl Post Game is scheduled to start right after the game, as Fox NFL Sunday host Terry Bradshaw will present the Lombardi Trophy to the winning team. The Super Bowl LI will also live stream on Fox Sports Go.