State Department officers sign dissent memo against Donald Trump's Muslim ban, report says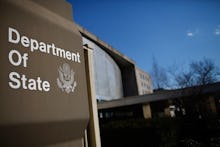 About 900 State Department officials have signed on to an internal "dissent memo" objecting to President Donald Trump's executive order blocking immigrants from a group of Muslim-majority nations from entering the U.S., according to a new report.
"A senior State Department official confirmed that the memorandum in the department's 'dissent channel' had been submitted to management," Reuters reported Tuesday.
"White House spokesman Sean Spicer said on Monday he was aware of the memo but warned career diplomats that they should either 'get with the program or they can go,'" Reuters said.
Voice of America, a Congress-funded news service, quoted Laura Kennedy, a former deputy assistant secretary for European and Eurasian Affairs, as saying both the number of signatories and the leaking of the memo "are clear indicators of the widespread concern within the department over this specific policy step and unease over the broad direction of foreign policy."
The submission of the dissent memo follows Trump's abrupt dismissal Monday of acting Attorney General Sally Yates, an Obama administration holdover who questioned whether the new president's directive was legal and ordered Justice Department lawyers not to defend it in court.
Trump's order, which affects refugees as well as immigrants from seven countries, has led to massive protests across the country, a scramble within his own administration and party to interpret or defend it and a large-scale mobilization of lawyers to defend those trying to enter the United States.
The president, who denies his order is a "Muslim ban" although he openly advocated for just that during his campaign, said travelers from seven countries were temporarily barred from coming to the United States in the name of national security.