Budweiser's Super Bowl commercial shows that immigration is the American way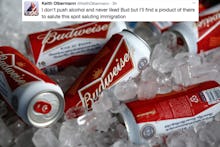 The "King of Beers" may have just unintentionally trolled the leader of the free world.... in a Super Bowl commercial. 
While Americans are still reeling from President Trump's executive order Saturday — which placed banned numerous immigrants from coming back to the U.S. — Budweiser has released a short ad spot for the Super Bowl that is undisputedly pro-immigration and anti-xenophobia. 
The commercial shows a young Adolphus Busch, the founder of Anheuser-Busch, emigrating from Germany to the U.S. in 1857. After a harrowing boat ride, Busch reaches America, where people yell out "You're not wanted here!" and "Go back to where you came from!" 
Sounds just like the anti-immigrant rhetoric of 2017, no? 
Of course, the ad's happy ending shows Busch reaching St. Louis, Missouri, and meeting Anheuser, who he'd go on to co-found alcohol giant Anheuser-Busch with.
The company wants the ad to "resonate with today's entrepreneurial generation — those who continue to strive for their dreams," Ricardo Marques, who serves as VP for Budweiser at parent company Anheuser-Busch InBev, told AdAge. Marques insisted the team isn't making a political statement. 
"There's really no correlation with anything else that's happening in the country," Marques told Adweek. "This is a universal story that is very relevant today because probably more than any other period in history today the world pulls you in different directions, and it's never been harder to stick to your guns."
But given the uproar over President Trump's executive orders on immigration and his commitment to building a border wall, the ad is more timely than Budweiser's marketing team could have anticipated. 
People on Twitter are already praising the ad:
Other people weren't as thrilled, and vowed to boycott the company over the commercial:
Cheers to yet another mundane part of society that Trump has made divisive?Check out the full commercial below.