Report: US citizen who said mom died after Trump Muslim ban lied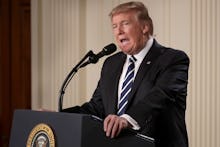 Feb. 1, 2017, 4:38 p.m.: Following the publishing of this article, Fox 2 posted a follow-up story saying Mike Hager, who said his mother died of an illness after being denied entry to the U.S. despite holding a green card, lied to their reporter.
Hager's mother died five days before the ban went into effect, Imam Husham al-Hussainy told Fox 2, with Trump's de facto Muslim ban playing no role. 
Mic's original story appears below:
A local business owner in Detroit flew to Iraq to bring his mother to the United States for medical treatment, but she passed away one day after being denied entry as a result of President Donald Trump's sweeping bans on citizens of seven Muslim-majority nations, Fox 2 reported Tuesday.
U.S. citizen Mike Hager, who fled Iraq with members of his family during the Gulf War, told the station his mother Naimma had lived in the U.S. since 1995 but was not allowed onto a flight in Iraq despite possessing a valid green card establishing her as a permanent U.S. resident. He blames Trump personally for Naimma's death.
"They destroyed us," Hager said. "I went with my family, I came back by myself. They destroyed our family ... I was just shocked."
"I had to put my mom back on the wheelchair and take her back and call the ambulance and she was very very upset," Hager added. "She knew right there if we send her back to the hospital she's going to pass away — she's not going to make it."
Hager worked with U.S. special forces from 2003 to 2008 as a contract translator and cultural adviser, according to Fox 2. In a separate interview with CBS, he said he had been "shot twice in Iraq in Fallujah."
According to CBS, another family from Iraq experiencing a medical crisis was separated when a father was prevented from returning to see his one-and-a-half-year-old son Dilbreen, who was receiving medical treatment in the U.S. after he was badly burned by a boiler explosion.
After a great deal of initial confusion following Trump's decision to issue the order on Friday, the White House eventually clarified on Sunday that green card holders should be admitted to the U.S. on a case-by-case.
According to CNN, the initial order was hastily drafted by a few key Trump staffers including former Breitbart executive Stephen Bannon and adviser Stephen Miller, and may have been rushed into effect without proper vetting from the Justice Department's Office of Legal Counsel or in coordination with relevant federal agencies like Customs and Border Protection. The LA Times reported Bannon and Miller viewed the order as "launching a radical experiment to fundamentally transform how the U.S. decides who is allowed into the country and to block a generation of people who, in their view, won't assimilate into American society."
Federal courts have since ordered blocks on various parts of the order. Trump promptly fired acting Attorney General Sally Yates for refusing to defend it in court on Monday, saying she had "betrayed" the Department of Justice.