Amnesty International: We will fight Donald Trump's Muslim ban every step of the way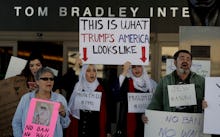 On Friday, President Donald Trump single-handedly caused irrevocable damage to the United States' human rights record. Trump and his administration are using bigotry to target refugees and immigrants in the name of national security.
Friday's executive order is deliberately and heartlessly blind to the unprecedented humanitarian crisis the world is currently facing. It violates human rights and goes against this country's shared values of equality, dignity and opportunity for all. In just a few days, it has affected hundreds of people and their families across the globe and in the U.S. No doubt, it will be devastating for thousands more.
Amnesty International is no stranger to governments that exploit real threats to security to turn people against religious and ethnic minorities. We've seen this before and we know the havoc it wreaks. And we know it must be stopped.
While courts have temporarily halted some of the worst aspects of Trump's order, it is time for Congress to hold up its end of the bargain. In addition to seeking to block enforcement, Congress can investigate potential abuses. Customs and Border Patrol agents are currently operating with little guidance, and they have extraordinary capacity to harass and harm ordinary people caught in the snares of this order.
Congress should swiftly investigate what is happening at airports across the country and they must also repudiate the ban and seek to obstruct its enforcement. Every day they are silent, Trump's ban gets harder to defeat.
While Trump may insist his actions are intended to protect the U.S., there is no statistical evidence to back up the claim that refugees are a threat. Not only that, the vetting refugees receive is already "extreme" – as it is, it can take two years or longer for a Syrian refugee to enter the United States. In truth, refugees who are cleared for resettlement here have more vetting than most of Trump's cabinet nominations.
The effects of this order in the United States reach beyond airport security. The order — and Trump's rhetoric — have inflamed bigotry. People are emboldened to act on their hate. The order sent shockwaves through American Muslim communities, even among naturalized citizens, who fear they may be next and that they cannot be certain of their own security in Trump's America.
People worry about being treated like criminals not because of their conduct, but because of their identity. We need Congress to speak out not just about the ban itself but about what it could be a harbinger of: large-scale, state-sponsored targeting of people based on religion and ethnicity, even when they're not suspected of committing a crime.
Members of Congress have to step up — and step up now — to support efforts to protect the human rights of people in communities here and around the world, including the rights to freedom of religion and nondiscrimination. If they don't, an incredibly dangerous precedent will be set.
With elections looming in France and Germany, the global community is seeing more and more politicians and elected officials scapegoating refugees and migrants. Instead of offering real solutions to complex problems of economic hardship and threats to public safety, they are pandering to bigotry. We, as a global community, cannot afford to let this dangerous trend continue. With all that hangs in the balance, it is critical that those here in the U.S. come together to raise our voices.
The Trump administration must govern based on facts and nuanced analysis — not prejudice.
The days following Trump's inauguration have caused despair but they have also been a galvanizing force. Millions of Americans and people all over the world joined Amnesty and other organizations in the streets for the Women's March and thousands have raised their voices against the travel ban at airports around the country. It is just the beginning of Trump's administration and there will no doubt be more galvanizing moments ahead.
Amnesty International and our over one million U.S. activists have vowed to fight him every step of the way every time he attempts to violate human rights. Today, we rally together to send a loud and clear message to Congress: No ban in our name.