Jon Stewart drags Donald Trump in surprise 'Late Show' appearance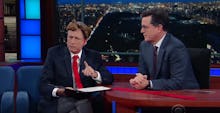 President Trump's upcoming executive orders, as read by Jon Stewart, include China will "send us their wall" while Mexico pays for it in the form of COD and "the new official language of the United States is bullshit." The last one is a criticism of White House Press Secretary Sean Spicer flat-out lying about Trump's inaugural crowd sizes and Kellyanne Conway calling the lie "alternative facts."
Jon Stewart stopped by the Late Show with Stephen Colbert Tuesday wearing what appeared to be a dead animal strapped to his head and a bright red tie that dragged on the floor to present what he says are President Donald Trump's upcoming executive orders.
In the clip, Stewart skewers Trump's administration, saying:
"I, Donald J. Trump have instructed my staff to speak only in bullshit. And by the way, none of that 'Sure I'll speak bullshit at work, but at home, I'm gunna use facts and real information.' No. Bullshit all the time. Immersion: It's the only way to be fluent."
Stewart delivers Trump's third presidential order, which is that he (Trump) is "exhausting":
"It has been 11 days, Stephen. 11 fucking days. 11. The presidency is supposed to age the president, not the public. And the reason that I, Donald J. Trump — this is his words — am exhausting is that every instinct and fiber of my pathological self-regard calls me to abuse of power."
Stewart continues, deftly shifting his tone from jocular to serious:
We have never faced this before — purposeful, vindictive chaos. But perhaps therein lies the saving grace of my, Donald J. Trump's, presidency. No one action will be adequate. All actions will be necessary. And if we do not allow Donald Trump to exhaust our fight, and somehow come through this presidency calamity-less and constitutionally partially intact, then I, Donald J. Trump, will have demonstrated the greatness of America. Just not the way I thought I was gunna.
Stewart has occasionally stopped by the Late Show to serve as a political mouthpiece for Colbert and to speak on pressing matters directly to the public. With his impassioned and clever decades-long persona as host of the Daily Show, he's encouraged people to vote and criticized Trump supporters and Trump himself during the election.
Following Trump's inauguration, Stewart's words serve as a necessary comedic balm for protesters. And according to recent approval polls, a majority of the country is exhausted by Trump's seemingly unending list of highly controversial executive orders and staff firings.