White men only: A $2,500 college grant solely for Caucasians is now accepting applications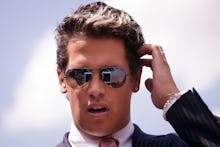 Milo Yiannopoulos, a senior editor at the conservative Breitbart news site who was banned from Twitter in summer 2016 after harassing Ghostbusters star Leslie Jones, has launched a college scholarship for white men.
The grant will award $2,500 to white men who are citizens of the United States enrolled in a two- or four-year university. "The Yiannopoulos Privilege Grant is exclusively available to white men who wish to pursue their post-secondary education on equal footing with their female, queer and ethnic minority classmates," the Privilege Grant website says.
Magnanimously, all majors and courses of study will be considered. 
"It started as a joke, but if you're a women, or you're black… If you're disabled, or you're Muslim, or a refugee… If you identify as an attack helicopter, you can get free money," Yiannopoulos told Breitbart. "But the facts say that actually it is young white boys who are educationally underprivileged."
Yiannnopolos has a few connections to the Trump administration. He was first hired at Breitbart by Steve Bannon, Trump's nationalist chief strategist, and he is also friends with Bob and Rebekah Mercer, two Trump bundlers who Politico reports are the "dominant patrons of the anti-establishment right."
Do more white men really need help paying for college?
Young white boys are not educationally underprivileged. 
While women do enroll in college at higher rates, 29.9% of men receive bachelor's degrees compared with 30.2% of women, according to the latest census. 
Tellingly, the Privilege Grant website argues "research now suggests that low-income caucasian males are the most in need of help." However, the research cited is a study of students in the United Kingdom, a country which has a drastically different education system and demographics. 
Controlling for education, white men in the US out-earn all demographics except Asian men, according to the Pew Research Center, with black men earning just 73% of their white counterparts and Hispanic men bringing in just 69% of what similarly-educated white men earn.
There's also little evidence to suggest that white men have the hardest time paying for college. Black students graduate with far more debt than their white peers, a gap which then goes on to triple after graduation, thanks to racial discrimination and depressed earnings. 
Mic reached out to the press contact supplied on the grant website, but the email address did not appear to be activated. Yiannopoulos didn't immediately respond to a request for comment. 
Sign up for The Payoff — your weekly crash course on how to live your best financial life. Additionally, for all your burning money questions, check out Mic's credit, savings, career, investing and health care hubs for more information — that pays off.