Iskra Lawrence and 36 other models pen a letter to the fashion industry asking for healthier models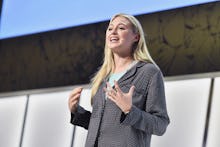 Ahead of New York Fashion Week, a group of 37 models, including curve models Iskra Lawrence and Sabina Karlsson, have written an open letter to the fashion industry in support of not just more racial, size and age diversity but size as well. 
The letter itself, which is posted on the National Eating Disorders Association website, is in response to a recent study proving that the greatest prevalence of eating disorders is among models. According to the letter, given how eating disorders have the highest mortality rate of any other mental health disorder, it should be taken seriously.
"As models, we care about each other's health and well-being," the letter begins. "As we look toward New York Fashion Week, we strongly urge you to prioritize health and celebrate diversity on the runway this season."
"Together, we are challenging you to make a serious commitment to promote health and diversity on the runway," the letter continues. "Through our social media platforms, which collectively reach millions of people, we will recognize the industry leaders who step up to this challenge. Specifically, we will keep an eye out for diversity of race, size, age and gender status, and we hope to see diversity within and across all of those categories." 
"Now more than ever, we have an opportunity to send the message that diversity is what makes us strong," the letter concludes. "We sincerely hope that all of you — from designers and editors to agents and casting directors — will collectively harness the industry's creative power to be forward thinking, inclusive and do the right thing." 
The letter itself ends with "in solidarity," and then a list of the 37 models who have signed on, including — in addition to Lawrence and Karlsson — models of color like Ashley B. Chew and Yomi Abiola. 
Already on social media, the models are showing full support, with Lawrence, who has 3.1 million followers on Instagram, posting about the letter and the call to the fashion industry to change. 
And Karlsson, who has over 30,000 followers on Instagram herself, posted about it too. 
This open letter comes a week after the Council of Fashion Designers of America issued an email in the leadup to NYFW stating that the organization "will continue to grow its health and wellness initiatives through the CFDA Foundation and Equinox Coalition for Health as Beauty." 
CFDA's Diane von Furstenberg and Steven Kolb also highlighted another key initiative: the diversity coalition. "New York Fashion Week is also a celebration of our city's diversity, which we hope to see on the runways."
With New York Fashion Week set to begin Thursday, Feb. 9, and castings for shows well under way, we'll just have to wait and see if these letters make any impact at all.