Milo Yiannopoulos left his waiter a 50% tip — and an outrageously homophobic note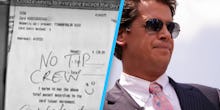 Former Breitbart writer and "alt-right" media personality Milo Yiannopoulos loves controversy as much as Americans love fast food. 
On Friday night, Yiannopoulos decided to cook up some more controversy before departing from the University of New Mexico, in Alberquerque, where he gave an anti-immigrant and anti-Muslim speech.
After dining at a Buffalo Wild Wings near the airport, Yiannopoulos and some friends decided to leave no tip and scribble several crucifixes and an offensive message on the $139.81 credit card receipt: "God hates fags sorry about it," KRQE, a local news outlet, reported. 
Yiannopoulos posted a photo to Snapchat, KRQE reported. On the Snapchat, he typed: "Good evening to everyone except the gays." 
But it sounds like Yiannopoulos and company may have had a change of heart before leaving the establishment: The party allegedly left $60 in cash (roughly 50% of the total tab) before they left the Buffalo Wild Wings, a restaurant manager told Vice. 
Why would Yiannopoulos pretend he didn't tip the staff at Buffalo Wild Wings when, in fact, he did? Perhaps the facade of provocateur is more important to him than stiffing servers at a chain restaurant. It seems like Yiannopoulos' social feeds may be yet another source of "alternative facts." 
Yiannopoulos did not immediately respond to Mic's request for comment.