After mosque fire, a synagogue gave this Muslim community the keys to their building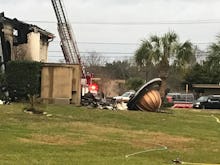 The Victoria Islamic Center, a mosque in the small Texas city of Victoria, was completely devastated by a mysterious fire early Saturday — only hours after President Donald Trump signed an executive order banning citizens of seven Muslim-majority countries from entering the United States.
Members of the roughly 100-person congregation discovered that their mosque had been destroyed when they arrived for prayer later that morning. But in the days immediately following the fire, a local synagogue stepped forward, offering the community the keys to their building.
"Jewish community members walked into my home and gave me a key to the synagogue," Shahid Hashmi, a surgeon and founding member of the center, told the New York Times on Monday.
"Everyone knows everybody, I know several members of the mosque, and we felt for them," Robert Loeb, the president of the synagogue, Bnai Israel, told the Forward. "This is sad for everyone in the community and as Jews we especially have to feel for the Muslim community. When a calamity like this happens, we have to stand together."
Bnai Israel wasn't the only group to extend a helping hand. A GoFundMe set up on behalf of the Victoria Islamic Center to raise money towards rebuilding the mosque has raised more than a million dollars in just four days, and Hashmi told the Times that local churches have come to pray with the Muslim congregation.
"Today our faith in humanity has been rekindled again!" a Facebook post on the Victoria Islamic Center's page on Sunday said. "The local support from our wonderful Victorians has been heartwarming."