Nearly half of Americans support Donald Trump's Muslim ban, according to this poll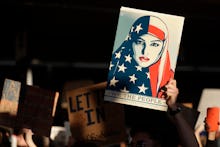 When it comes to Muslims, the United States is a divided country.
According to a Reuters/Ipsos poll released on Tuesday, about half (49%) of Americans said they "agreed" with President Donald Trump's executive order on immigration.
The order, signed on Friday, bans the entry of all refugees for at least 120 days, and at least 90 days for immigrants and visa holders from seven Muslim-majority countries: Iran, Iraq, Libya, Somalia, Sudan, Syria and Yemen. 
The Muslim ban prompted massive protests at international airports across the country where lawyers and translators offered free legal representation to those affected under the order. U.S. Borders and Customs Patrol agents began detaining, interrogating and deporting immigrants and visa holders from even Muslim-majority countries outside of the seven listed on the order. 
On Tuesday, an Iraqi green card holder — who worked as a translator for the U.S. military — was allowed on a flight to the U.S.. His sick mother, on the other hand, was not. She died after Trump's order blocked her from getting on the plane. 
Reuters found that only 31% of Americans said they believe the Muslim ban makes them feel "more safe" and 33% said it won't make a difference in their safety. The poll also said 26% of Americans believe the order made them feel "less safe."
The findings in the Reuters poll — based on collected responses from 1,201 people: 453 Democrats and 478 Republicans — should make one wonder if the lack of confidence in the order is worth the trauma and heartbreak it has caused.