February 2017 TV premiere dates: 18 new shows and seasons to watch this month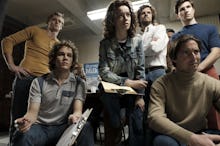 February is a big month for TV viewers. Besides the Super Bowl, Grammys and Oscars, there are 18 season and series premieres to catch throughout February 2017. Why bother leaving the couch?
Check out the lineup of February 2017 premiere dates below:
Thursday, Feb. 2
Superior Donuts on CBS at 8:30 p.m. Eastern
This new half-hour comedy is about an old-school donut shop owner in Chicago who hires an "enterprising go-getter" to bring his shop into the 21st century. The series stars Judd Hirsch, Jermaine Fowler, Katey Sagal and David Koechner.
Training Day on CBS at 10 p.m. Eastern
Based on the 2001 movie of same name, the CBS series is set 15 years after the events of the film. Bill Paxton, Justin Cornwell, Katrina Law and Drew Van Acker star in this reboot.
Friday, Feb. 3
World Star TV on MTV2 at 11 p.m. Eastern
Chris Powell hosts this "unpredictable" half-hour show that brings everything you love about Worldstar Hip Hop to the small screen. Expect segments on culture, new music, interviews with budding stars and more.
Sunday, Feb. 5
24: Legacy on Fox after the Super Bowl
Sorry, 24 fans: Jack Bauer isn't returning for this Fox reboot. But the new series does follow the same format as the original. The first episode will premiere in the time slot following the Super Bowl, but the show will actually air on Mondays at 8 p.m.
Monday, Feb. 6
APB on Fox at 9 p.m. Eastern
A billionaire engineer decides to take charge of a troubled Chicago police district when his best friend gets murdered, enabling the department to get some cutting-edge crimefighting technology.
Tuesday, Feb. 7
The Challenge: Invasion of the Champions on MTV at 9 p.m. Eastern
Season 29 of the MTV competition series brings back some former underdogs seeking a chance at redemption. The twist? Former champions will join the game later in the season.
Thursday, Feb. 9
MasterChef Junior on Fox at 8 p.m. Eastern
The cutest cooking show returns for a fifth season with judge chefs Gordon Ramsay and Christina Tosi.
Wednesday, Feb. 15
Doubt on CBS at 10 p.m. Eastern
Katherine Heigl makes her return to TV after State of Affairs' cancellation in 2015. Heigl stars as an attorney who begins to fall for her client — who is accused of murdering his girlfriend 24 year ago.
Sunday, Feb. 12
Girls on HBO at 10 p.m. Eastern
Watch Hannah, Marnie, Jessa and Shoshanna grow up in the sixth and final season of the HBO series.
Sunday, Feb. 19
Big Little Lies on HBO at 9 p.m. Eastern
HBO's latest venture brings Reese Witherspoon and Nicole Kidman to the small screen. Big Little Lies is based off author Liane Moriarty's 2014 novel of same name.
The Good Fight exclusively on CBS Access
The Good Wife spinoff series starring Christine Baranski, Cush Jump and Rose Leslie is a CBS Access exclusive, which means that it won't be airing on your regular CBS channel. The Good Fight picks up a year after The Good Wife ended and finds Diane Lockhart forced out of Lockhart & Lee after she loses her money in a financial scam.
Monday, Feb. 20
Bates Motel on A&E at 10 p.m. Eastern
The fifth and final season of the Psycho prequel will find Norman spiraling out of control after the death of his mother. Look forward to an appearance by Rihanna, who will be portraying Marion, the famous character from the Alfred Hitchcock classic. 
Tuesday, Feb. 21
Stranded With a Million Dollars on MTV at 10 p.m. Eastern
Stranded With a Million Dollars is a social experiment you won't want to miss. Ten strangers get dropped in a location for 40 days with the clothes they have on — and a suitcase with 1 million dollars. Those who survive get to split the cash. But, of course, there is a twist: They can spend money to make their stay more comfortable — however, they all must agree on purchases, and the items are overpriced. 
Friday, Feb. 24
Uncommon Sense Live on MTV2 at 11:30 p.m. Eastern
Charlamagne returns as host for the third season of this weekly late night talk show that touches on news stories and other hot topics.
Little Women: LA on Lifetime at 9 p.m. Eastern
The ladies of Little Women: LA are back for a sixth season. Expect the cameras to capture a ton of drama in this group of friends.
Monday, Feb. 27
Cold Case Files on A&E at 9 p.m. Eastern
The documentary series, which last aired in 2006, is being revived by A&E. Fans can follow detectives as new technology helps them crack cases and bring closure to families.
The Voice on NBC at 8 p.m. Eastern
Gwen Stefani is back on the judges panel. She'll be joining Adam Levine, Blake Shelton and Alicia Keys to search for the next singing sensation. The two-night premiere will continue Tuesday, Feb. 28 at 8 p.m. Eastern.
When We Rise on ABC at 9 p.m. Eastern
When We Rise is a four-part miniseries written and created by Academy Award-winning screenwriter Dustin Lance Black. The series follows a group of LGBTQ men and women who "helped pioneer one of the last legs of the U.S. civil rights movement from its turbulent infancy in the 20th century to the once unfathomable successes of today."