'Agents of S.H.I.E.L.D.' Season 4 Spoilers: What will happen in episode 13?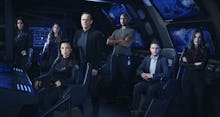 Marvel's Agents of S.H.I.E.L.D. continues to be one of the best comic book adaptations on television. Since the midseason premiere established Dr. Radcliffe as a reluctant villain, season four has delivered one stellar episode after another. Tuesday night's episode, titled "Hot Potato Soup," was no exception. 
Radcliffe, who has now aligned himself with Senator Nadeer, sends the Watchdogs after Agent Koenig, played by guest star Patton Oswalt, because he believes that Phil Coulson has entrusted the agent with the Darkhold. Of course, Radcliffe did not realize that there are multiple Agent Koenigs (you know what is better than one Patton Oswalt? Three Patton Oswalts!). 
"Hot Potato Soup" sets the stage for an exciting next few episodes, with Radcliffe gaining possession of the Darkhold, and Coulson learning that the real Agent May is missing. We also see in the final moments that the Watchdogs' main target is none other than Coulson. In season four, episode 13 of Agents of S.H.I.E.L.D., Coulson and team will try and rescue May, but will likely hit a few snags. 
Synopsis and promo
Season four, episode 13 of Agents of S.H.I.E.L.D., titled "Boom," will see the team come face-to-face with a new Inhuman, while May's whereabouts remain uncertain. Check out the official synopsis for the episode below:
Daisy, Mace and the S.H.I.E.L.D. team must find a way to contain an explosive Inhuman. Meanwhile, Coulson and Mack come face-to-face with Radcliffe's inspiration for Aida.
After sitting out last episode, it appears that Director Jeffrey Mace will be suiting up once again — and from the look of the promo, he is still taking his strength-inducing cocktail. Check out the promo for "Boom" below:
Season four, episode 13 of Marvel's Agents of S.H.I.E.L.D. airs Tuesday, Feb. 7 at 10 p.m. Eastern on ABC. 
Mic has ongoing coverage of Marvel. Please follow our main Marvel hub here.