Hackers are playing YG's "Fuck Donald Trump" on the radio: Here are the lyrics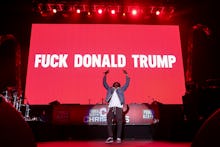 To this day, no song has been able to capture the anti-Trump vitriol with more cathartic artfulness than YG's "FDT (Fuck Donald Trump)." It dropped in March 2016, but radio stations all over the country are finally picking up on it — or being forced to.
Wednesday, BuzzFeed reported that Sunny 107.9 WFBS, a local radio station in Salem, South Carolina, that mostly spins oldies and beach music, had been hacked to play the Compton rapper's profane anthem. They sent a since-deleted apology to their viewers via Facebook with president and majority shareholder Frank Patterson reassuring listeners "we hold our political views to ourselves" and that they had "forwarded" the hackers IP address to the government for prosecution.
The station later replaced their initial apology with a thank you to local TV stations that helped get the word out about what happened to their station.
Sunny 107.9 was hardly the first station to fall prey to an unexpected "FDT" dance party. A similar thing happened to an R&B oldies station in San Angelo, Texas, on Jan. 20, Trump's inauguration, though in that instance the song looped for an entire hour. That same day it happened on El Jefe 96.7 a Tennessee Spanish language station, Mother of the Redeemer Radio in Evansville, Indiana, and Cresent Hill Radio, a nonprofit station playing local music in Louisville, Kentucky. 
Reporters at Heat Street confirmed that the hacks took place through a Barix Exstreamer device, which stations had neglected to password protect.
"None of us had set a password to the device," Kathy Weisbach, president of Crescent Hill Radio, told Heat Street. "My bad, as I had done other security measures at the tower and the studio but failed to password protect this device. You can bet it is now."
Other radio stations using similar gear may find themselves with an interloper in their playlists soon enough. If so inclined, you should be ready to sing along, or at least have a few of the key lines on lock, such as YG's breakdown of Reagan's, Obama's and Donald Trump's presidencies:
Look, Reagan sold coke, Obama sold hopeDonald Trump spent his trust fund money on the vote
Or YG and Nipsey Hussle's call for Mexican, black and white people to unite in resistance:
It wouldn't be the USA without MexicansAnd if it's time to team up, shit, let's beginBlack love, brown pride in the sets againWhite people feel the same as my next of kinIf we let this nigga win, God bless the kids
Check the full lyrics at Genius here so you can actively participate in the next juvenile act of resistance you hear on your local radio station.
[Intro: YG]Just when I thought it wouldn't get no sicker, woke up one morning and heard this weird ass mothafucka talkin' out the side of his neck. Me and all my peoples, we always thought he was straight. Influential mothafucka when it came to the business. But now, since we know how you really feel, this how we feel[Hook: YG]Fuck Donald TrumpFuck Donald TrumpYeah, nigga, fuck Donald TrumpYeah, yeah, fuck Donald TrumpYeah, fuck Donald TrumpYeah, fuck Donald TrumpYeah, nigga, fuck Donald TrumpYeah, yeah, fuck Donald Trump, yeah[Verse 1: YG]I like white folks, but I don't like youAll the niggas in the hood wanna fight youSurprised El Chapo ain't tried to snipe youSurprised the Nation of Islam ain't tried to find youHave a rally out in L.A., we gon' fuck it upHome of the Rodney King riot, we don't give a fuckBlack students, ejected from your rally, what?I'm ready to go right now, your racist ass did too muchI'm 'bout to turn Black PantherDon't let Donald Trump win, that nigga cancerHe too rich, he ain't got the answersHe can't make decisions for this country, he gon' crash usNo, we can't be a slave for himHe got me appreciatin' Obama way moreHey Donald, and everyone that followsYou gave us your reason to be President, but we hate yours[Hook: YG]Fuck Donald TrumpFuck Donald TrumpYeah, nigga, fuck Donald Trump(I don't like your ass, nigga)Yeah, yeah, fuck Donald TrumpYeah, fuck Donald Trump(I really don't like you, nigga!)Yeah, fuck Donald TrumpYeah, nigga, fuck Donald Trump(This for my grandma!)Yeah, yeah, fuck Donald Trump, yeah[Verse 2: Nipsey Hussle]Nigga am I trippin'? Let me knowI thought all that Donald Trump bullshit was a jokeKnow what they say when rich niggas go broke....Look, Reagan sold coke, Obama sold hopeDonald Trump spent his trust fund money on the voteI'm from a place where you prolly can't goSpeakin' for some people that you prolly ain't knowIt's pressure built up and it's prolly gon' blowAnd if we say go then they're prolly gon' goYou vote Trump then you're prolly on dopeAnd if you like me then you prolly ain't knowAnd if you been to jail you can prolly still voteWe let this nigga win, we gon' prolly feel brokeYou built walls? We gon' prolly dig holesAnd if your ass do win, you gon' prolly get smoked, niggaFuck you![Hook: YG]Fuck Donald TrumpFuck Donald TrumpYeah, nigga, fuck Donald TrumpYeah, yeah, fuck Donald TrumpYeah, fuck Donald TrumpYeah, fuck Donald TrumpYeah, nigga, fuck Donald TrumpYeah, yeah, fuck Donald Trump, yeah[Interlude: YG]We the youth. We the people of this country. We got a voice too. We will be seen, and we will be heard[Verse 3: YG + Nipsey Hussle]Hold up, I fuck with Mexicans, got a plug with MexicansWhen the low low need a switch, who I call? A MexicanThis Comedy Central ass nigga couldn't be the PresidentHold up, Nip, tell the world how you fuck with MexicansIt wouldn't be the USA without MexicansAnd if it's time to team up, shit, let's beginBlack love, brown pride in the sets againWhite people feel the same as my next of kinIf we let this nigga win, God bless the kidsGod bless the kids, this nigga wicked and wiggedWhen me and Nip link, that's Bloods and CripsWhere your L.A. rally? We gon' crash your shit[Hook: YG]Fuck Donald TrumpFuck Donald TrumpYeah, nigga, fuck Donald TrumpI don't like your ass, niggaYeah, yeah, fuck Donald TrumpYeah, fuck Donald TrumpI really don't like you, nigga!Yeah, fuck Donald TrumpYeah, nigga, fuck Donald TrumpThis for my grandma!Yeah, yeah, fuck Donald Trump, yeah